One of my favorite things about food (and one of the reasons that I love writing about it) is its ability to transport you to another time or place. Sometimes, though, recreating those moments can take a bit more time than you may have. That's why I love dishes like this Slow Cooker Lubia, a nod back to my love for the Middle East.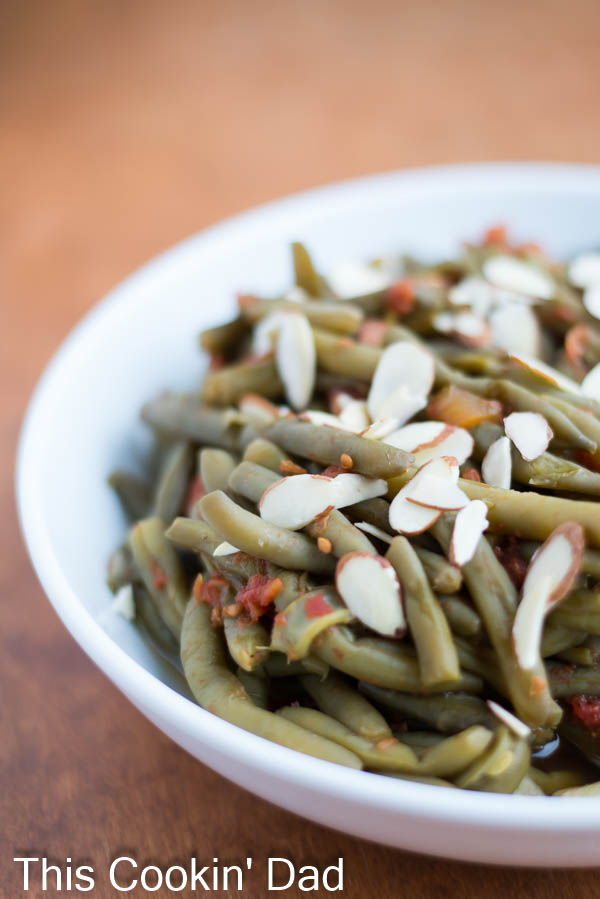 When I was in high school, my father worked for the federal government and spent a fair amount of time in the Middle East. Naturally, he brought the flavors home with him and I began to really appreciate cuisine from that part of the world. Several trips to Israel during my college years and a deployment to Iraq just cemented my love for Middle Eastern food. Falafel, shawarma, hummus, pita, and all sorts of kebab preparations served over rices with a myriad of salads…it's just a fun way to eat.
Lubia is a Lebanese green bean dish with as many variations as there are Lebanese grandmothers, but, at its most basic, we are talking about green beans braised in tomatoes and stock, not dissimilar to southern green beans cooked with ham hocks. The irony of my love for this dish is that I've never actually been to Lebanon nor have I had it during my travels to the Middle East. My first taste of this dish was in a little food stall at Reading Terminal Market in Philadelphia. That taste, though, took me right back to days spent visiting my parents in Israel and sharing meals with my brothers-in-arms when I was in Iraq.
While I will typically serve this as a side dish with something like my Turkey Salisbury Steak, it's equally delicious served over rice as a main dish. It's a beautiful taste of another culture, but, in many ways, it shows just how similar our cultures are and how well they can work together if we are willing to give it a chance.
What dish transports you to another time or place? Leave a comment and share your thoughts.

Slow Cooker Lubia
Ingredients
2-16 oz bags frozen green beans
1-28 oz can whole, peeled tomatoes, crushed by hand
2 cups low-sodium chicken stock
1 tsp onion powder
1 tsp garlic powder
salt and pepper to taste
sliced almonds (to garnish)
Instructions
Combine all ingredients except for almonds in an 8 qt slow cooker. Set to high for 8 hours.
Top with almonds and serve as a side or over rice as a main dish. Enjoy!