Say you are out late with some friends, you stop in at a nice restaurant for drinks and appetizers.  You are just out having fun, but when that appetizer comes out, you are immediately stunned.  You have to capture that image, but with it being dark outside and the restaurant dimly lit, there is no hope in getting something worth sharing, right?  What do you do?
Here's a shot that I recently took on a walking food tour of Asheville.  It was 9:30 pm and the restaurant was incredibly dark, but I had to get a photo of this Watermelon Caprese Salad from Strada.  Read on to find out how, with a little help, I made this shot happen.
I am frequently asked about my food photos and how I get them to turn out the way that I do.  Most importantly, people want to know my approach and how I work in difficult situations.  The first thing I tell them is to remember that photography is translated from Greek roots as "writing with light" or "drawing with light".  So photography really has two primary components, writing (or storytelling) and light.  I'll speak more to the writing part in another post and focus on light here, specifically, lighting up a dish in a dark restaurant with very little equipment.
Myself, if I'm going anywhere, I typically carry my DSLR with me, so I'll always have my camera handy in case something special pops up.  For most of us, though, we are always carrying our phones in our pockets or purses and, for sharing on social media, that'll do just fine.  If I'm out with friends or family, I always know that they will be my greatest asset.
Here's how I got that shot above.
Working with some fellow photographers at the table, I  asked a friend to use his phone's flashlight to provide some backlighting.  I turned on my phone's flashlight to light up the front a little.  This allowed me to work out my camera settings for the best shot without having to rely on a tripod or have the harsh built-in flash of the camera.  Another dining with us captured this image of the setup.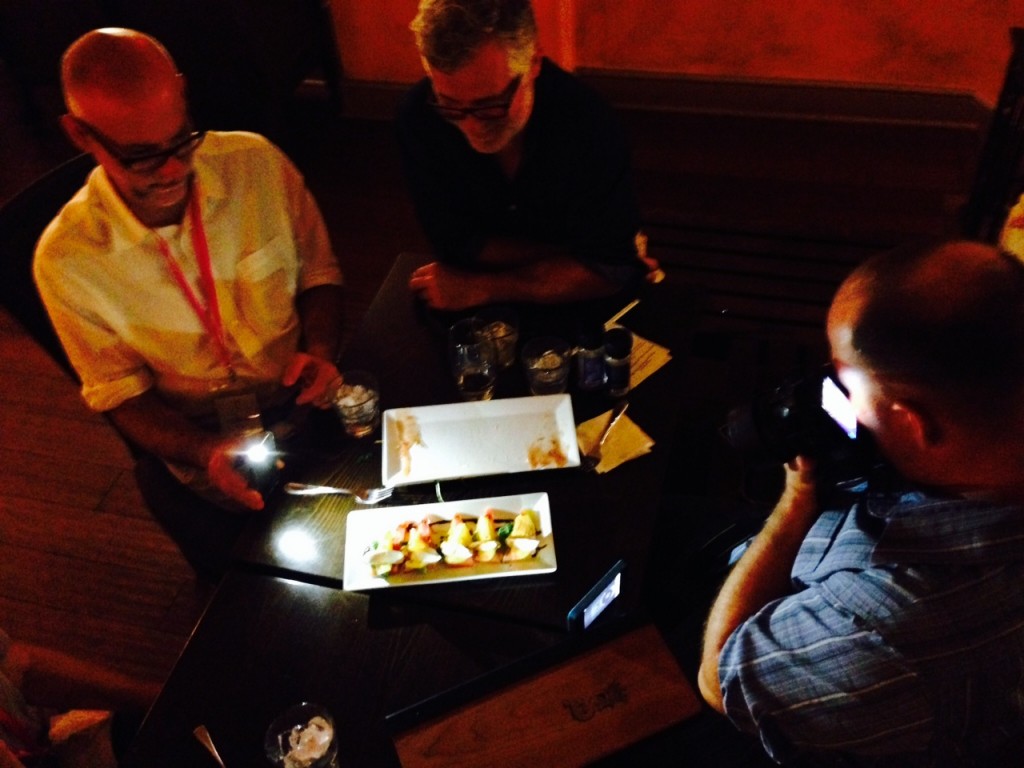 As you can see, the space was pretty tight, but I was just able to squeeze in a shot.  If you are out with friends, your phone might allow to get a little closer to the dish.  Here is the shot straight out of the camera.
With a little touch-up in Lightroom, I was able to really pull out some of the colors and make those tomatoes pop.  It was a beautiful dish and incredibly tasty with sweet, creamy, and acidic components touched off by that unmistakeable taste of basil!  YUM!
While I'm at it, here is another shot that was taken using a phone to light up the scene.  Here, we are taking a look at a dish from The Market Place in Asheville.  Chef William Dissen presented us with a hand cut pappardelle with braised lamb, roasted oyster mushrooms, confit tomatoes, basil pesto, and parmesan.  Again, the restaurant was pretty dark, so I had my friend holding the phone with the flash on for some great side lighting from the left while I held up the back of the menu for a little bounce to fill in the right side of the dish and snapped the shot with my other hand.  Here's how it turned out straight out of the camera…
…and after a little post-processing.
All said and done, don't let a dark restaurant keep you from capturing a great shot.  If you only have a phone with you, enlist some friends (or make some new ones) to light up the dish so that your camera or phone can take the best shot possible.
What difficulties do you have taking photos?  Do you have any tips to share with the photography world?  Need some advice?  Leave a comment and share your story.