All month long, we've focused on grains. Today, we're going to take a look at quinoa and I'm going to share a simple recipe for a stunning, and tasty, Red Quinoa Salad.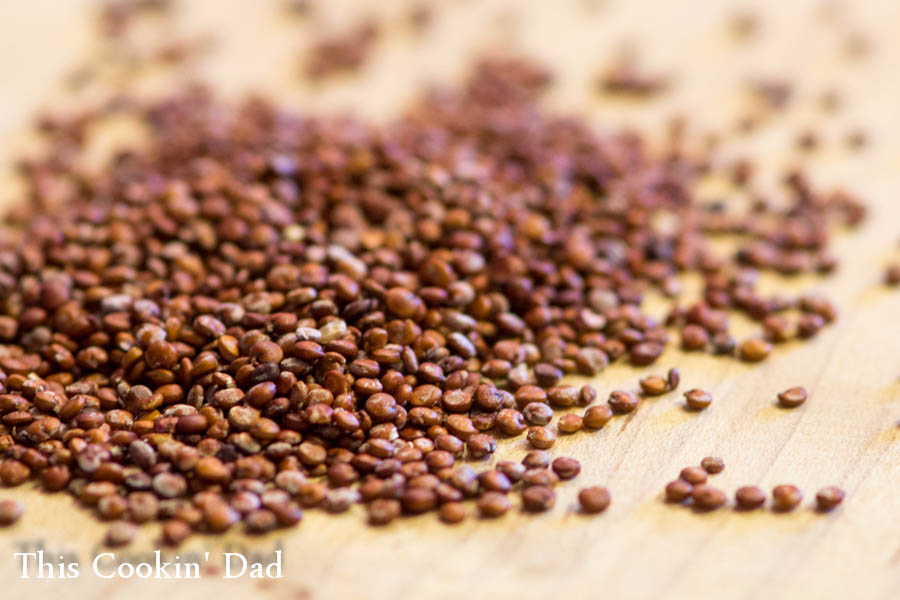 Quinoa is classified as a pseuograin. It is different from the other grains that we've looked at so far in that it is not a member of the grass family, like rice or barley. Originally domesticated in the Andes Mountains of South America, quinoa has been a staple food of the Andean peoples for thousands of years. Only recently has it started to become known in other parts of the world, largely due to its nutritional value.
A superfood, quinoa is one of the few plants that is considered a "complete protein." This means that it contains sufficient amounts of the nine essential amino acids that humans must obtain through diet in order for humans to synthesize proteins, enzymes, hormones, etc. That makes it a popular options for vegetarians, vegans, or anyone else looking to limit their meat intake. Quinoa is also a great source of many vitamins and minerals and it nutty flavor and chewy texture is perfect for incorporating into everyday foods like this Red Quinoa Salad.
To get started, prepare your quinoa in much the same way you would a pot of rice. Place one cup of quinoa and two cups of water into a pot with a pinch of salt. (I chose red for the color, but any quinoa would do fine. Just check the cooking time.)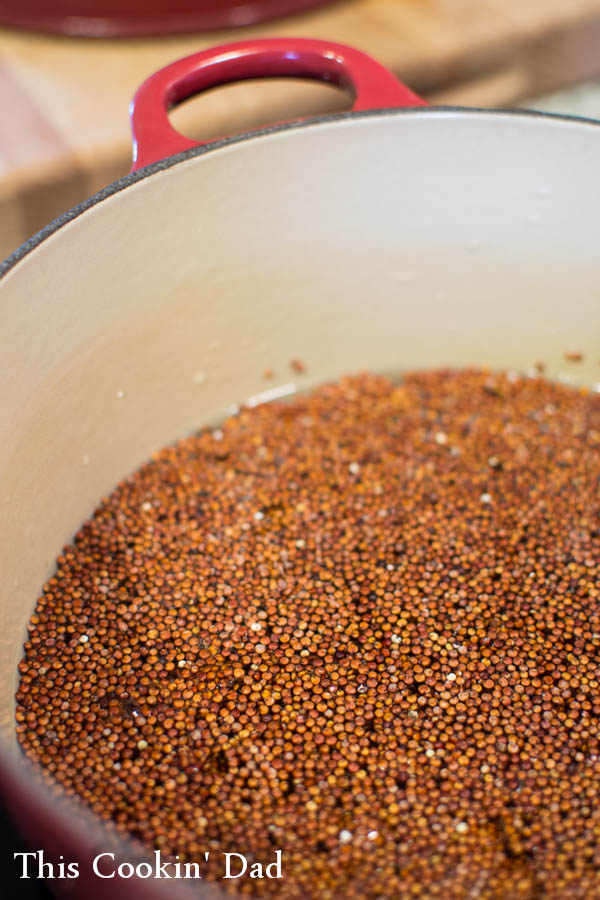 Bring to a boil, cover, reduce heat to low, and simmer for 20 minutes. After 20 minutes, remove from the heat and leave covered for another 10 minutes before fluffing with a fork.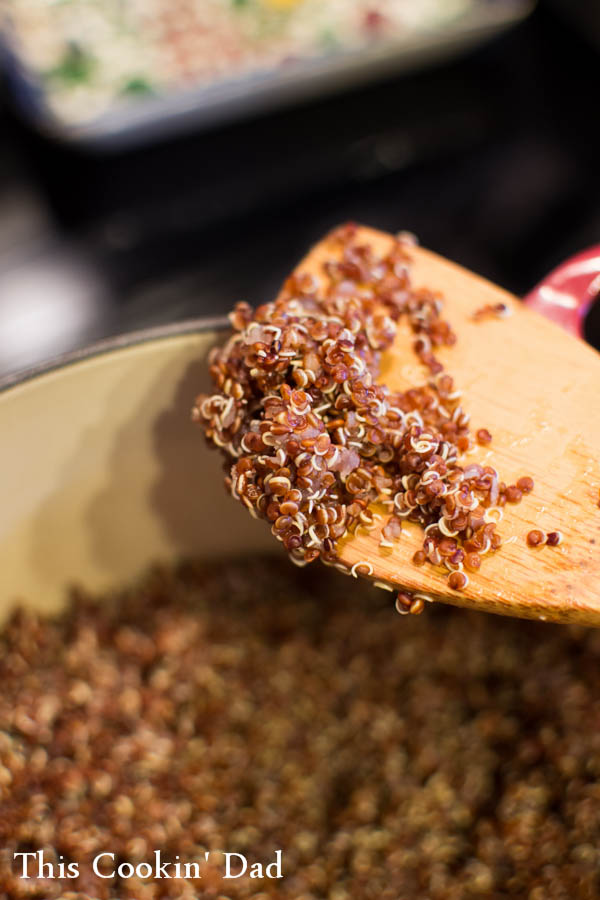 In the meantime, dice up some cucumber, tomato, and red onion…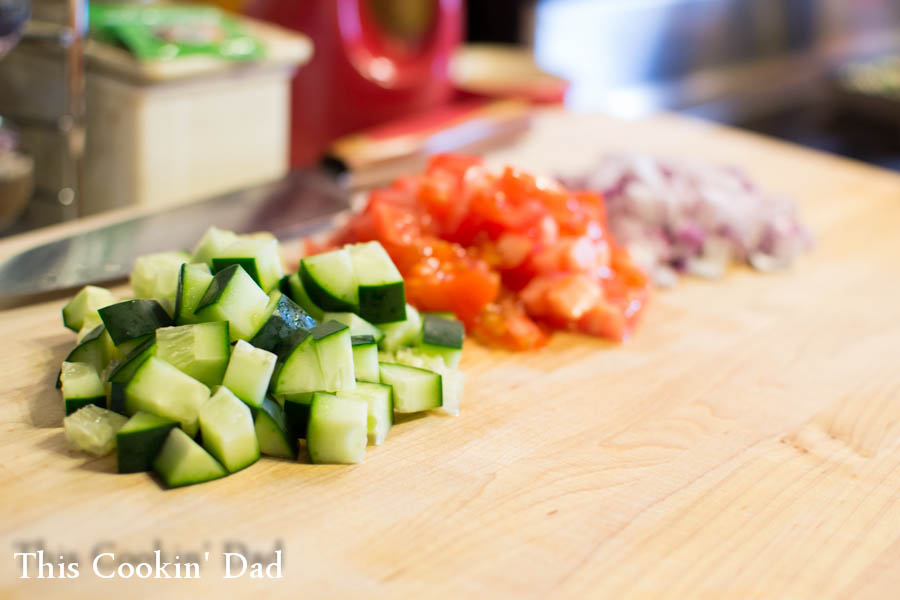 …and prepare a light vinaigrette with red wine vinegar, olive oil, some dried oregano, and salt and pepper.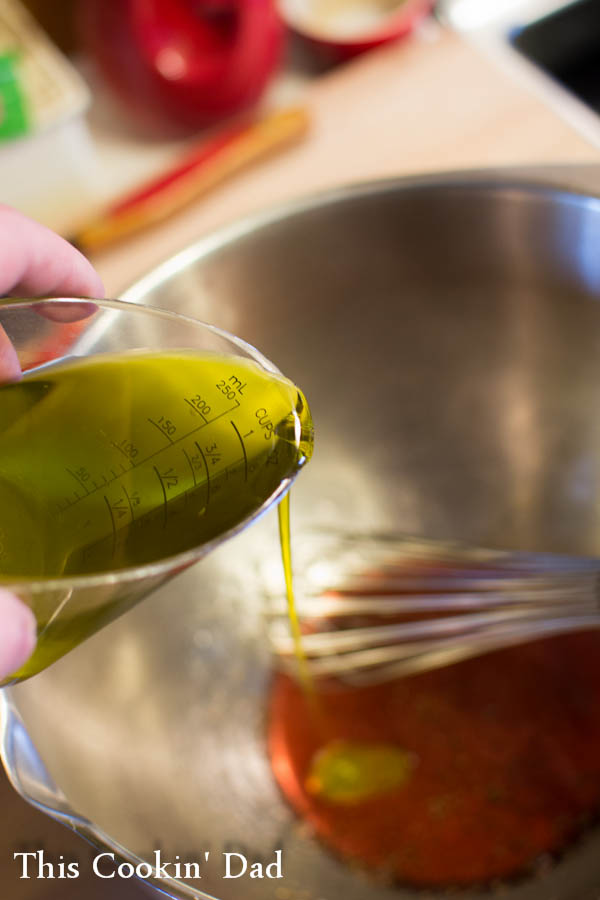 While the quinoa is still a little warm, toss it with the vinaigrette and add in the vegetables. Season with more salt and pepper to taste.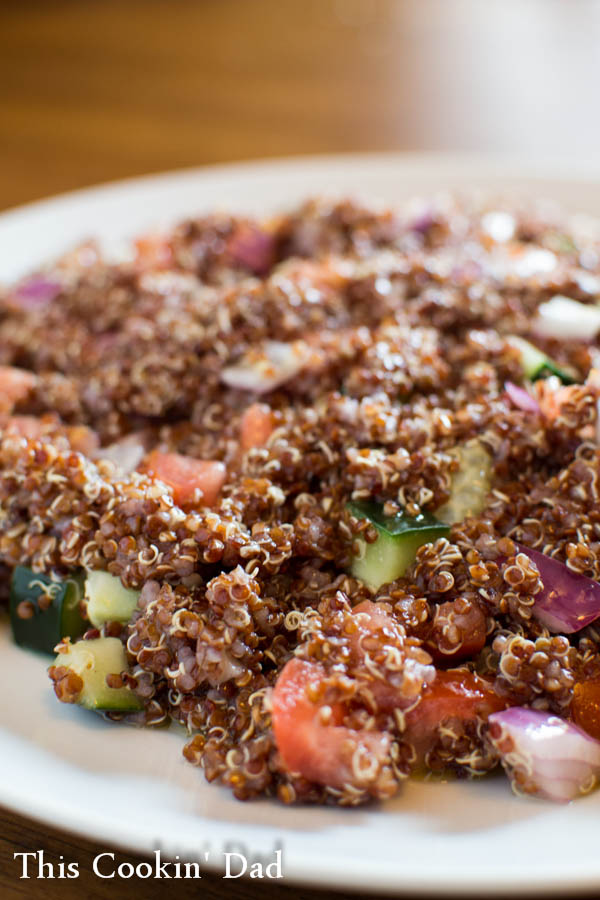 For a yummy lunch, serve it up with a sandwich and a small handful of potato chips. YUM!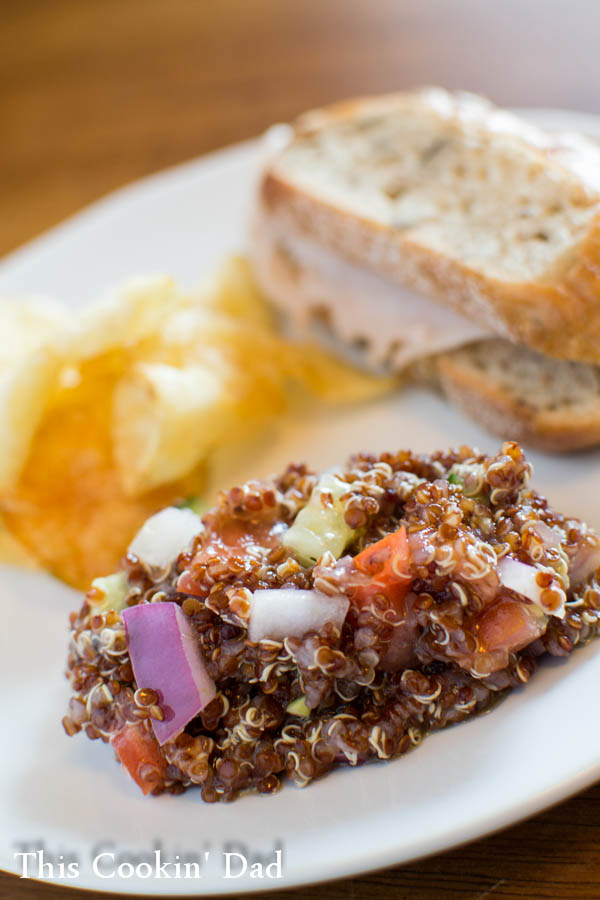 Have you ever tried quinoa? What are your thoughts? How do you feel about grains, in general? What are your favorites? Do you shy away from them? We'll be discussing grains through March on This Cookin' Dad. Please leave a comment and share your story.

Red Quinoa Salad
This recipe uses red quinoa for the striking color, but any variety would work well. Just consult the package directions for appropriate cooking times.
Ingredients
1 cup red quinoa
2 cups water
salt and pepper
¼ cup red wine vinegar
1 tsp dried oregano
¾ cup olive oil
1 cup roma tomatoes, diced (about 2 tomatoes)
1 cup cucumber, diced (about ½ cucumber)
1 cup red onion, diced (about ½ red onion)
Instructions
In a medium pot, add quinoa, water, and a pinch of salt. Bring to a boil over high heat. Cover, reduce heat to low, and simmer for 20 minutes.
After 20 minutes, remove from heat and keep covered for an additional 10 minutes before fluffing with a fork.
Meanwhile, add vinegar, oregano, salt, and pepper to a medium mixing bowl. Whisking quickly, slowly add the olive oil until fully incorporated.
Pour about half of the vinaigrette in the quinoa. Add the vegetables, folding carefully to combine. Add more vinaigrette to taste.
Enjoy!