All month long, I've been focusing on grains and while, yes, I did shift the focus to rice last week, I believe that rice is so varied and such an important part of the world diet that it warrants a little extra attention. This week, we're taking a look at wild rice and I'll share my recipe for Wild Rice Stuffed Peppers.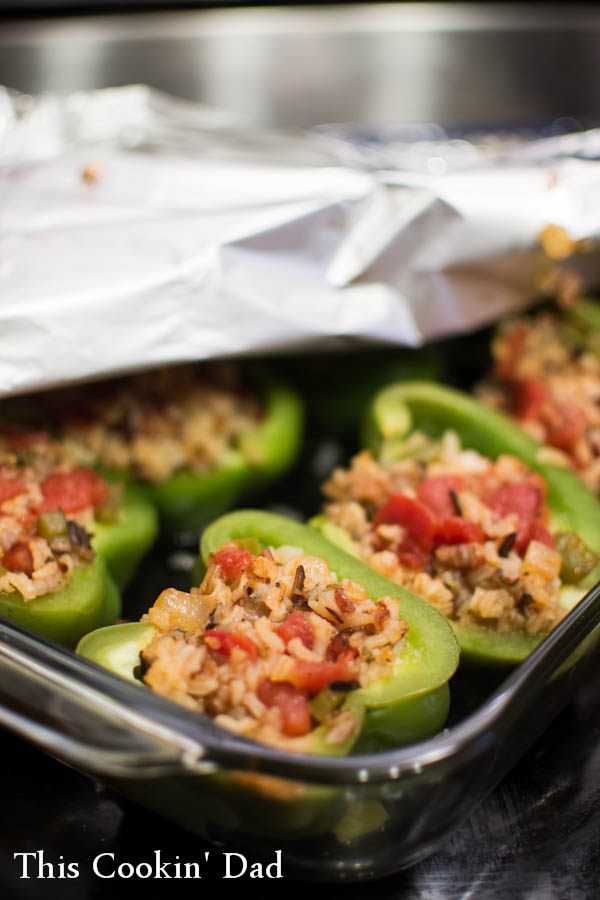 While white rice is the milled and polished version of domesticated brown rice, wild rice is an entirely different plant. A different species, even. Both are cereal grasses, but grow in different conditions, with white rice traditionally grown in Asia and Africa and wild rice more abundant in North America.
Wild rice also tends to have a chewier exterior. This, coupled with it's increased nutritional value, may explain it's popularity in the United States as opposed to other parts of the world. Still, since it is not as widely grown, wild rice tends to be more expensive which is why you'll often see it sold as part of a blend with other rices, including white or brown rice.
Personally, even though I grew up eating white rice, I enjoy eating wild rice. Where white rice stretches a meal, wild rice becomes a major component of it. Where white rice soaks in flavors, wild rice stands up for itself, lending a nuttiness and flavor all it's own. This is definitely clear in my Wild Rice Stuffed Peppers.
To get started, I saute up some onions, bell pepper, and a 28-oz can of diced tomatoes with some olive oil, herbs, and salt and pepper.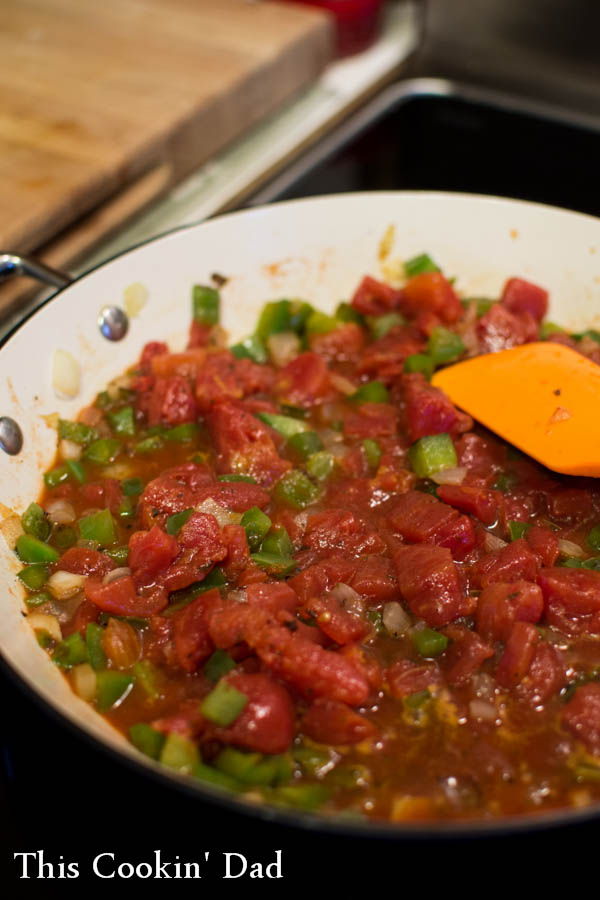 I also have a pot of rice ready to go.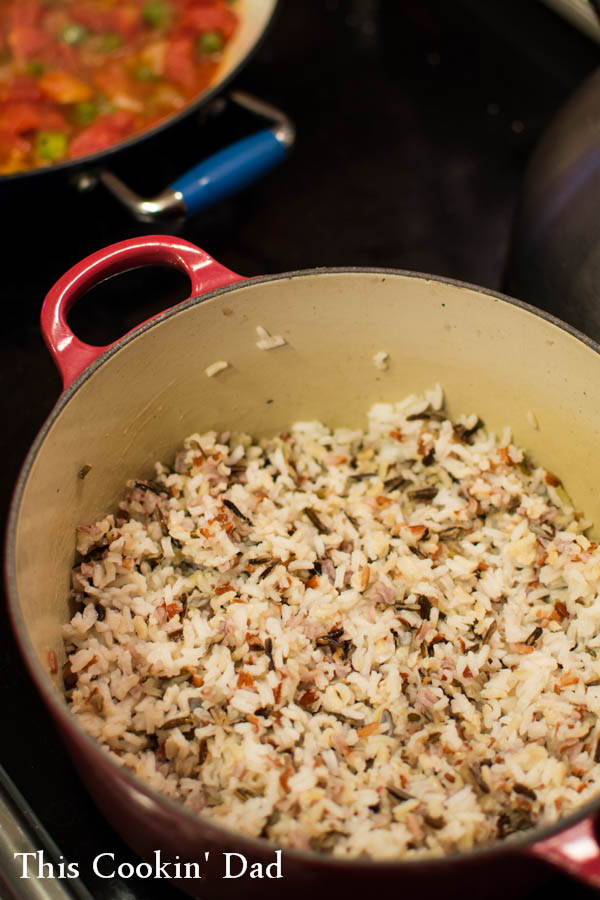 While all of that's cooking up, I get my peppers ready to stuff. Since I'm using this as a side dish, I want a little smaller portion, so I cut the bell peppers in half and rip out the seeds and veins.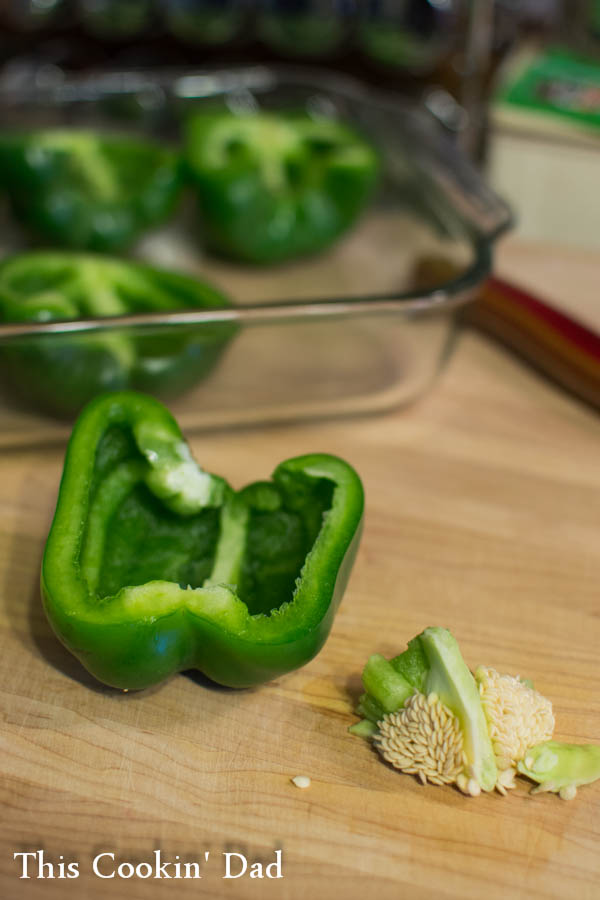 I combine the rice and tomato mixture, tasting and seasoning as I go, and make sure that it is all thoroughly combined…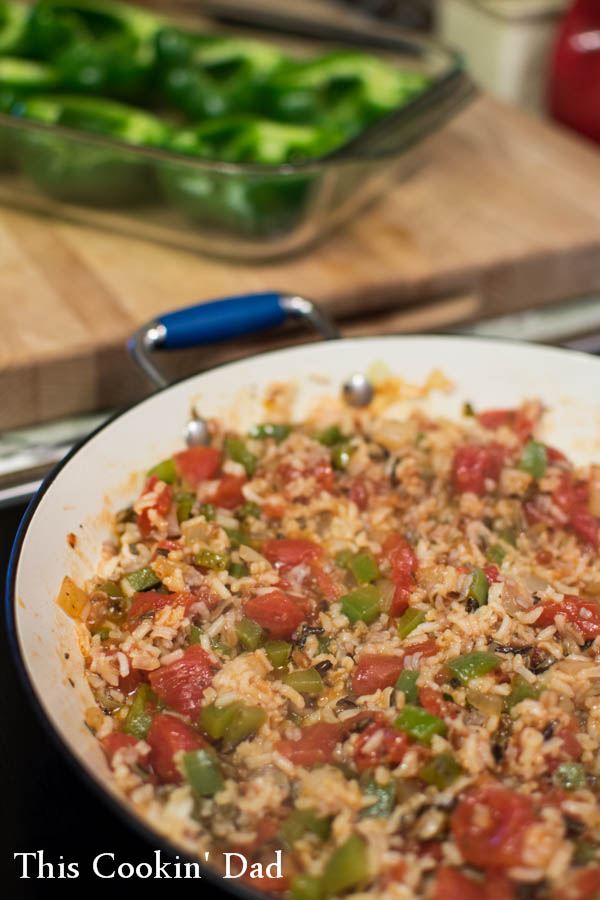 …before filling the peppers with the rice mixture. Make sure not to pack it to tightly.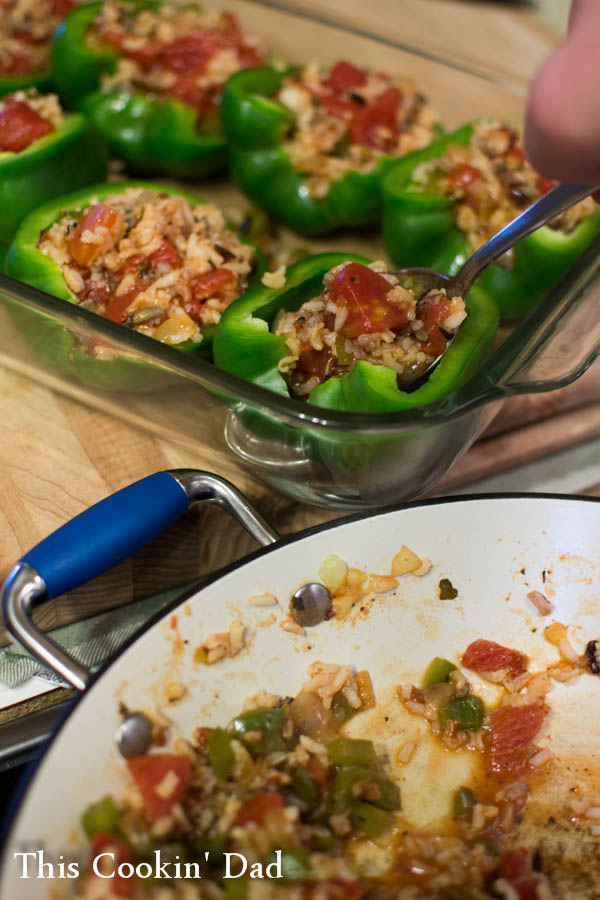 I cover with foil and bake at 400 for about 40 minutes. If you want your peppers cooked a little more, take it to 50 or 60. A little less, knock it down to 30.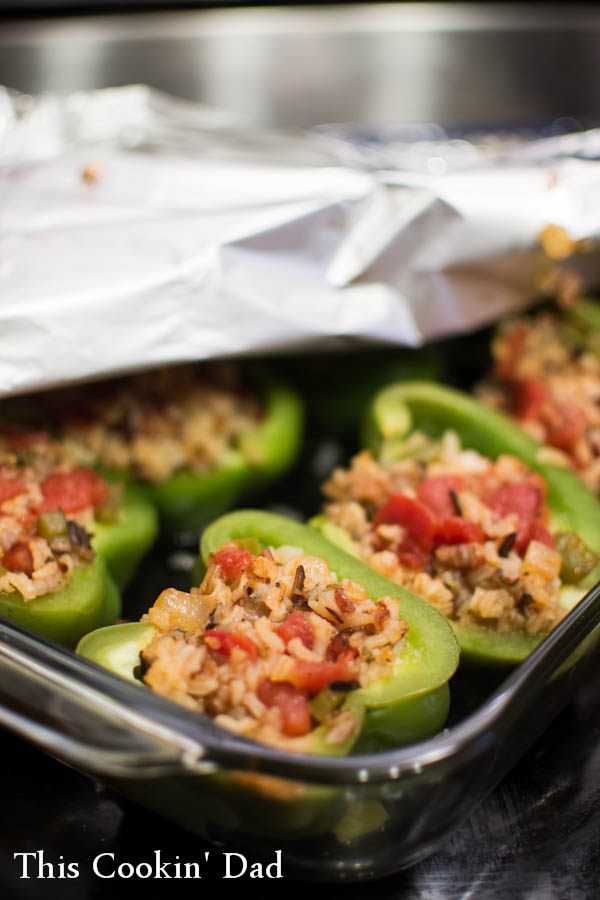 Plate up and serve with your favorite main dish. A roasted chicken or a yummy meatloaf would be perfect! Enjoy!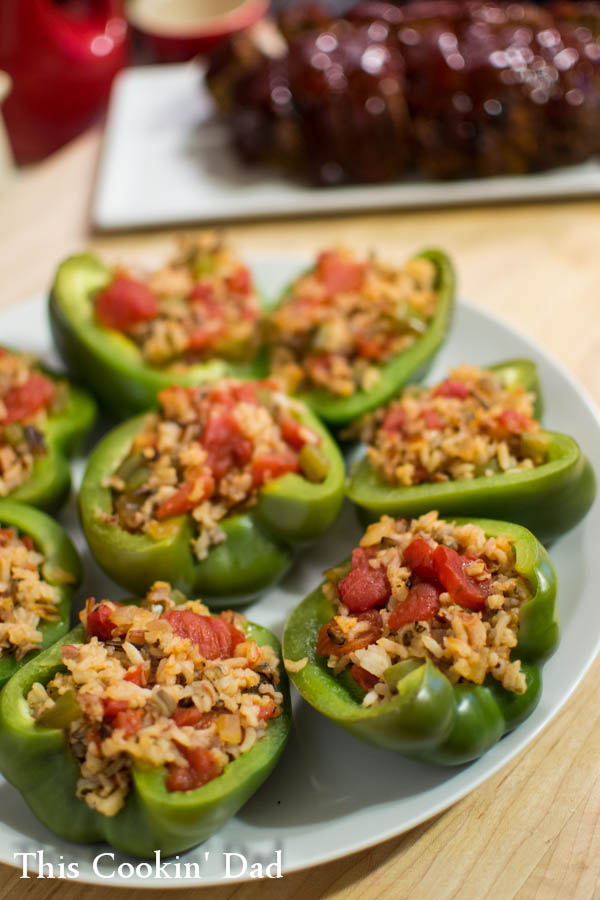 Are you a wild rice fanatic? How do you feel about grains, in general? What are your favorites? Do you shy away from them? We'll be discussing grains through March on This Cookin' Dad. Leave a comment and share your story.

Wild Rice Stuffed Peppers
Ingredients
1 cup wild rice or wild rice blend
5 green bell peppers, divided
2 tbsp olive oil
1 small onion, diced
1-28 oz can diced tomatoes, drained
2 tsp Italian seasoning or mixed dried herbs
salt and pepper
Instructions
Preheat oven to 400 degrees.
Cook rice according to package directions.
Dice one bell pepper. In a large pan over medium high heat, warm the olive oil. Add the onion and diced bell pepper. Saute for 3-5 minutes or until beginning to brown slightly. Add the tomatoes and Italian seasoning, stirring to combine, and season with salt and pepper.
Meanwhile, halve the remaining peppers lengthwise, removing the seeds and veins. Place the 8 halves into a casserole dish filled with ¼ cup water.
Combine the rice with the tomato mixture, stirring to combine. Remove from the heat and wait a few minutes for the rice to soak up any remaining liquid.
Carefully spoon about ¼ cup of the rice mixture into each pepper half.
Cover the peppers with foil and bake at 400 for about 40 minutes or until the peppers are done to your liking.
Serve warm and enjoy!