In researching for my initial post about salads this month (see What is a Salad?), I found that the first "salads" were just raw vegetables seasoned with a salty dressing. As I got to thinking about the simplicity of that, I got to thinking about how complicated we tend to make food and how something as simple as a Pesto Caprese Salad is easily within reach of any of us.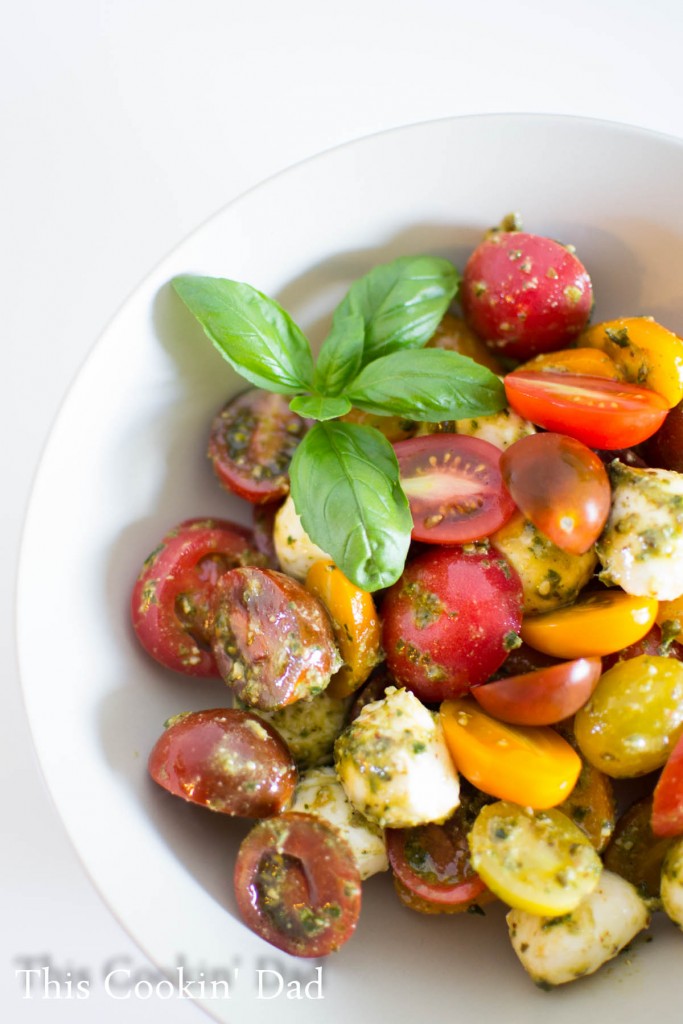 I have been cooking for a long time. When Beth and I first got married, I think I was on a mission to find out how many pots and pans I could use. I wanted to cook all kinds of different components and bring them all together to complete a final dish. We surely spent as much time doing dishes as we did cooking and eating. It was all about trying to bring in as many flavors as possible.
Over the years, I've come to find that a simpler approach to food doesn't have to mean a sacrifice in flavor. On the contrary, focusing in on fewer flavors really allows me to bring out the best of the ingredients that I am using. It also shows me that incredible dishes are well within the skill level of most home cooks.
In fact, this is a conversation that has progressed for years in the restaurant industry. The crux of the conversation is this: to what degree is it the chef's job to transform the ingredients into the desired dish and to what degree is it the chef's responsibility to honor the integrity of the raw ingredients and let their natural flavors take the lead.
At home, we are pretty lucky. While we may not have the breadth of technique that a restaurant chef possesses, neither are we encumbered by the need to express a certain level of skill. In fact, it may be our lack of skill that allows us to show so much restraint.
This simple Pesto Caprese Salad is a perfect example. Caprese salad is meant to resemble the red, white, and green of the Italian flag. It is a salad of  fresh red tomatoes, creamy mozzarella, and the sweet, anise flavor of bright green basil. Seasoned with olive oil and salt, this is a pretty typical antipasto Italy.
To make this dish, I could show off my skill by making fresh mozzarella or blending up a batch of pesto. In reality, though, I just want a tasty lunch. If I can purchase a quality mozzarella, find a pesto that I can trust, and buy (or grow) some beautifully fresh tomatoes, all that's left is not to screw it up.
All month long, we are talking about salads? What does "salad" mean to you? Did you grow up with a particular kind of salad? Leave a comment and share your story!

Simple Pesto Caprese Salad
Ingredients
8 oz. fresh mozzarella
24 oz. mixed cherry tomatoes, halved
4 Tbsp pesto
Instructions
Combine all ingredients into a large mixing bowl. Toss gently to coat. Serve and enjoy!