As we're talking about salads this month, I'm finding that salads come in so many different forms. At the end of the day, it's vegetables seasoned with dressing and, sometimes, accompanied with meat, right? Doesn't a Taco Salad fit all of these requirements? I would argue that it definitely does!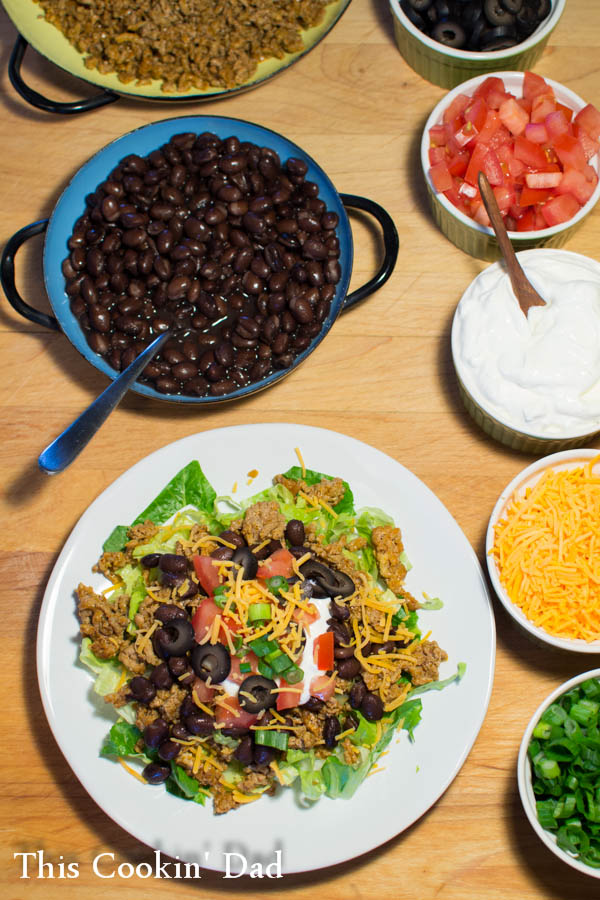 Taco salad is a pretty recent creation, only dating back to the mid-1960's. Basically, we're talking about lettuce with the toppings that you might put on a taco. Meat, beans, tomatoes, sour cream, cheese, salsa, etc. Typically, it's served in a taco bowl. To be honest, I think it started out as a way to sell really big tacos!
What makes taco salad so great for a weeknight meal is that it is so easy to have everything ready in advance. The tomatoes and onions can be chopped and the meat can even be cooked in advanced and warmed up that night. You can pull from your pantry and use up leftovers in the fridge.
Personally, I don't even go for the shell. A couple of tortilla chips adds plenty of crunch for me and keeps the salad a little healthier. To up the health factor even a little more, I cook up ground turkey rather than ground beef. You get lean meat, fresh veggies, and a little salt and spice. Add some sour cream, a touch of cheese, and a little crunch and you've got a heck of a nice meal.
Best of all, when you set up as a taco salad bar, everyone gets what they want! My wife is not a fan of beans, but I love them. My daughter loves black olives, but my son doesn't. Everyone gets to choose what goes on their plate and so I know that they are going to eat it. And since I've set up the bar, I know that they'll get a healthy meal out of it
I spend a lot of time in the kitchen cooking for the family and meals like this let me take a little break, but still serve up food that I know will fill those hungry tummies!
What is your favorite weeknight salad? All month long, we are talking about salads? What does "salad" mean to you? Did you grow up with a particular kind of salad? Leave a comment and share your story!

Weeknight Taco Salad Bar
Ingredients
For Taco Meat;
2 Tbsp olive oil
1 lb ground turkey
1 tsp salt
1 tsp ground black pepper
½ tsp ground cumin
½ tsp onion powder
½ tsp garlic powder
¼ tsp red pepper flake
½ cup water
For the Salad:
1-15 oz can seasoned black beans, drained
1 head romaine lettuce, chopped
2 roma tomatoes, diced
6 green onions, sliced
1-4.25 oz can sliced olives, drained
1-16 oz container of sour cream
1 lb shredded cheese
tortilla chips
Instructions
Heat the olive oil in a large skillet over medium heat. Add the ground turkey and cook until no longer pink. Drain the meat and return to the skillet. Add the seasoning and water. Stir to combine and cook until most of the water has evaporated. Set aside.
Heat the black beans according to label directions.
To construct the salads, put one handful of lettuce onto a plate. Top with meat and other desired toppings.
Serve and enjoy!