When I first started talking about salads earlier this month (see What is a Salad?), I found that the word salad originally referred to a salty dressing tossed with raw vegetables. Over time, however, we have come to see salads in many forms, including potato salad. Far from the creamy potato salad common in the U.S., this Warm German Potato Salad really hearkens back, I think, to that idea of vegetables coated with a salty dressing.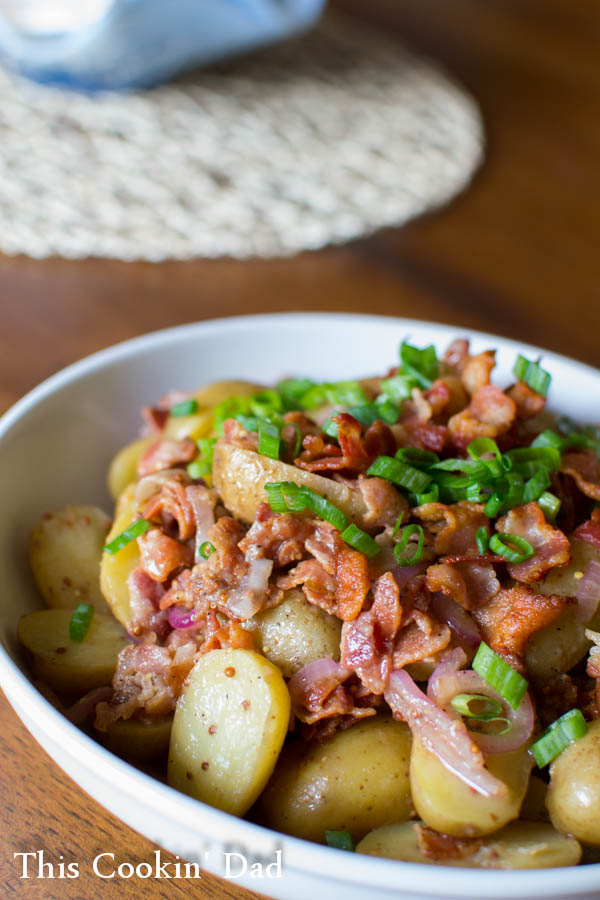 Most of us think of potato salad in a very specific way. For me, potato salad was always mayonnaise-based, typically yellow from a splash of yellow mustard, and dotted with pickle relish and bits of hard-boiled egg. This is a very typical potato salad in the southern U.S. and it's pretty much what my mom made for years. The problem is that I never really liked that potato salad very much (sorry, Mom). I don't know what it was. Maybe the combination of mushy potatoes and a creamy dressing just never did it for me. Or maybe it's the fact that it was always served on warm days and warm mayo is not something that excites me.
For years, I avoided potato salad altogether, thinking that it was all like that. Fortunately, one day, I stumbled upon a recipe for a warm potato salad and it just changed everything that I thought I knew about this popular side dish. Rather than a base of mayonnaise, this potato salad is based around vinegar and mustard and is best when served warm or at room temperature. It has a lovely tang and saltiness that goes perfectly with sausages, burgers, and just about anything that you would throw onto the grill.
Making it takes a few steps, but they really are steps that anyone can do.
First, we start by cooking up some potatoes. I use baby dutch potatoes and just cut them in half so that I get a good bite with my potatoes rather than a mushy mess. Make sure you cook them through and let them drain completely so that they'll soak up the dressing later.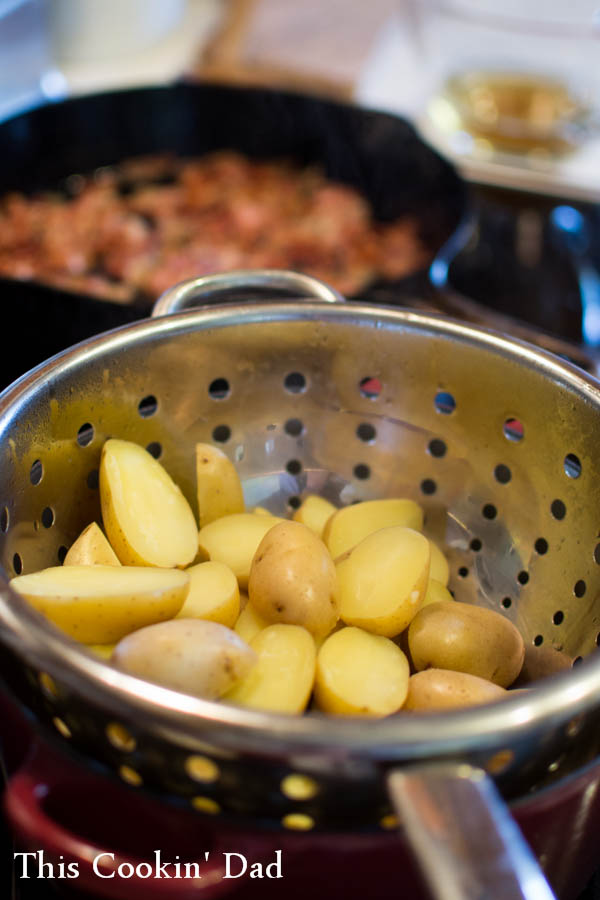 Next, I cook up some bacon and red onions. Not wanting to waste that beautiful bacon fat, I cook up the onions in a bit of the reserved grease.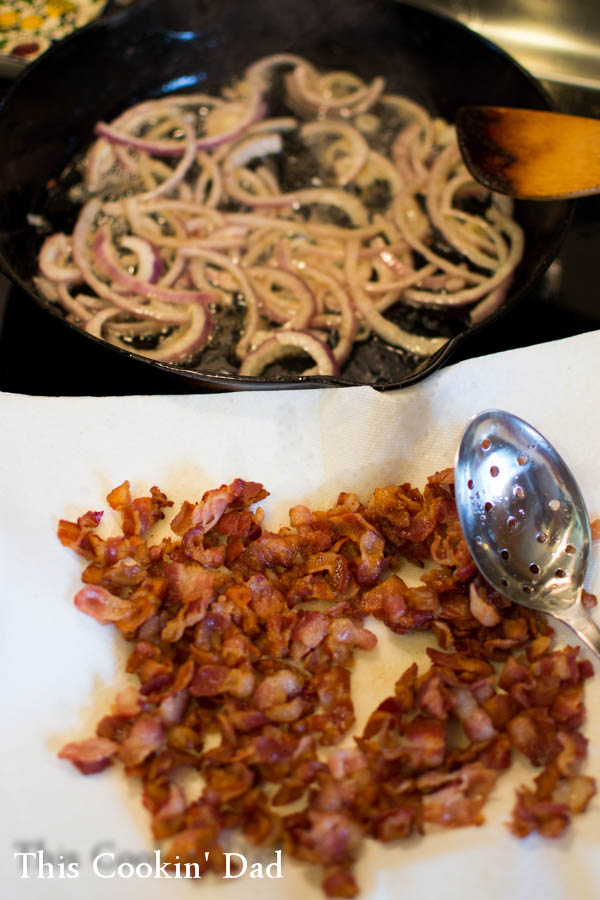 I take more of the grease and use it as my oil for making the vinaigrette. I mix up vinegar and a little whole grain mustard before whisking in the bacon fat.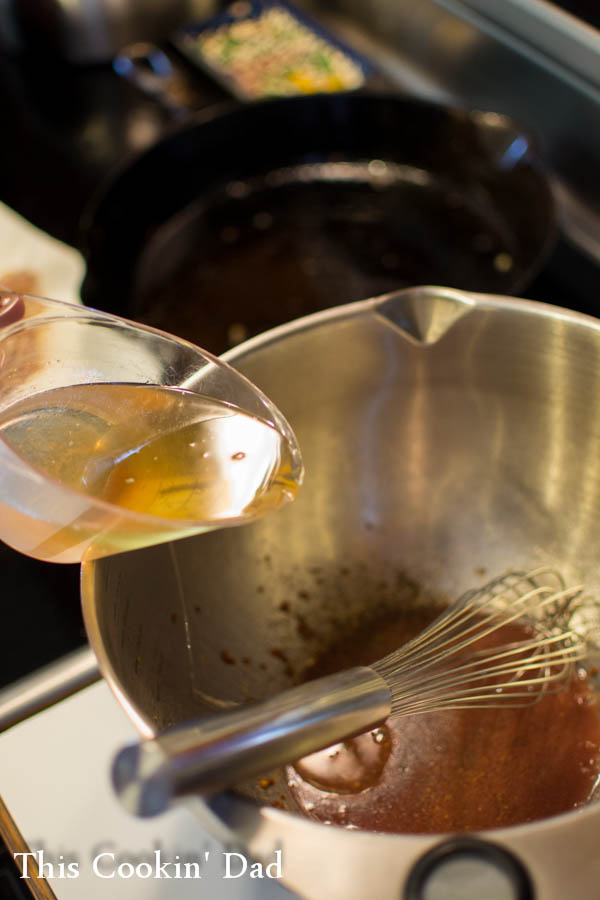 Then I add my potatoes, some chopped bacon, and the cooked onions to the vinaigrette and let it soak together for a few minutes. The warm (but dry) potatoes gladly soak up most of the dressing!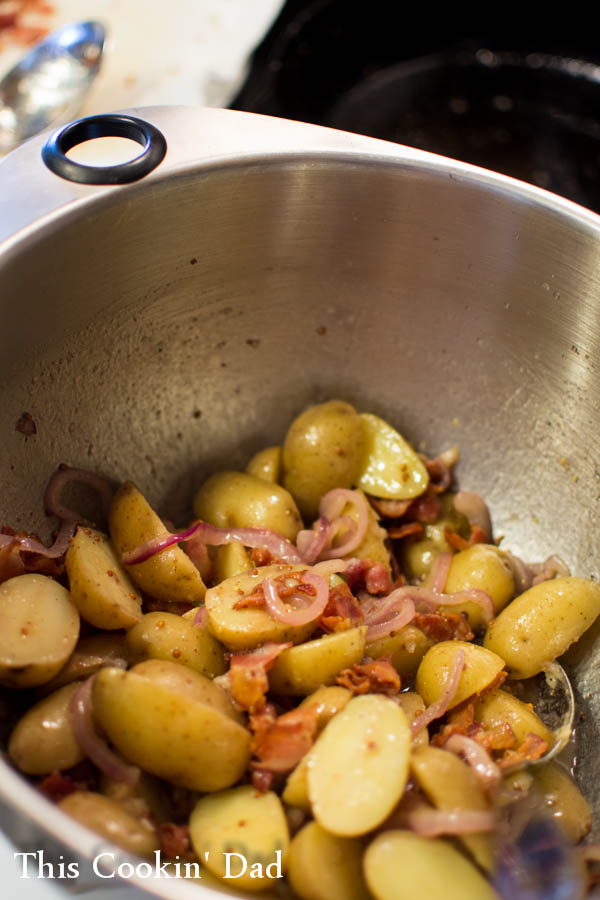 Finally, I serve my German potato salad topped with bacon and green onions.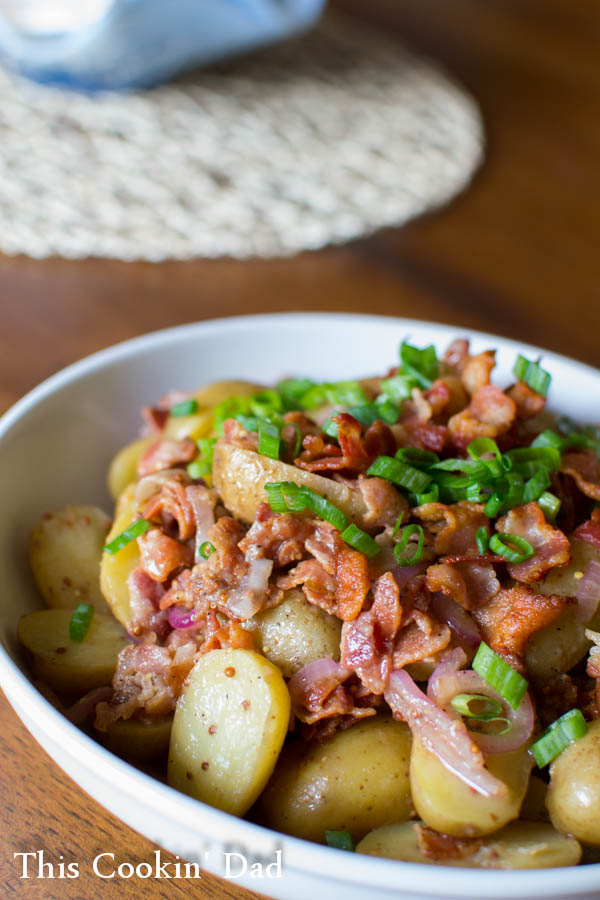 This dish is easy to make and will definitely impress your friends and family and will transport all of you to another place. I hope you enjoy!
What kind of potato salad did you grow up with? All month long, we are talking about salads? What does "salad" mean to you? Did you grow up with a particular kind of salad? Leave a comment and share your story!

Warm German Potato Salad
Ingredients
3 lbs baby dutch yellow potatoes, halved
1 lb bacon, diced
1 medium red onion, sliced
1 tbsp whole grain mustard
¼ cup apple cider vinegar
salt and pepper
8 green onion tops, sliced
Instructions
In a large pot, cover the halved potatoes with water and add two good pinches of salt. Heat over medium-high heat until boiling. Reduce heat and simmer for 20-25 minutes or until a fork inserted pierces the skin easily. Drain and allow to rest for about 10 minutes
Meanwhile, cook the diced bacon in a large skillet until crispy. Remove to a paper towel to drain. Reserve about 1 cup of the fat.
Heat ¼ cup of bacon fat in a skillet over medium heat. Add the onions and cook, stirring frequently for 5-10 minutes or until translucent. Set the onions aside with the bacon to drain.
For the dressing: In a large mixing bowl, combine the mustard and vinegar. Slowly whisk in the remaining ¾ cup bacon fat into the vinegar mixture. Add salt and pepper to taste.
To assemble: Add the drained potatoes to the vinaigrette, tossing to coat completely. Add the red onions and about ¾ of the bacon and allow to rest for 10-15 minutes.
Serve topped with remaining bacon and green onions. Enjoy!