When I wrote about grilling earlier this month (see Fire Up the Grill!), I mentioned how, for most of us, grilling has largely implied hunks of meat cooked over open flame. Very manly, very tasty, and very limiting. Nowadays, believe it or not, one of my favorite things to grill is bread and top it with other grilled ingredients for yummy crostini.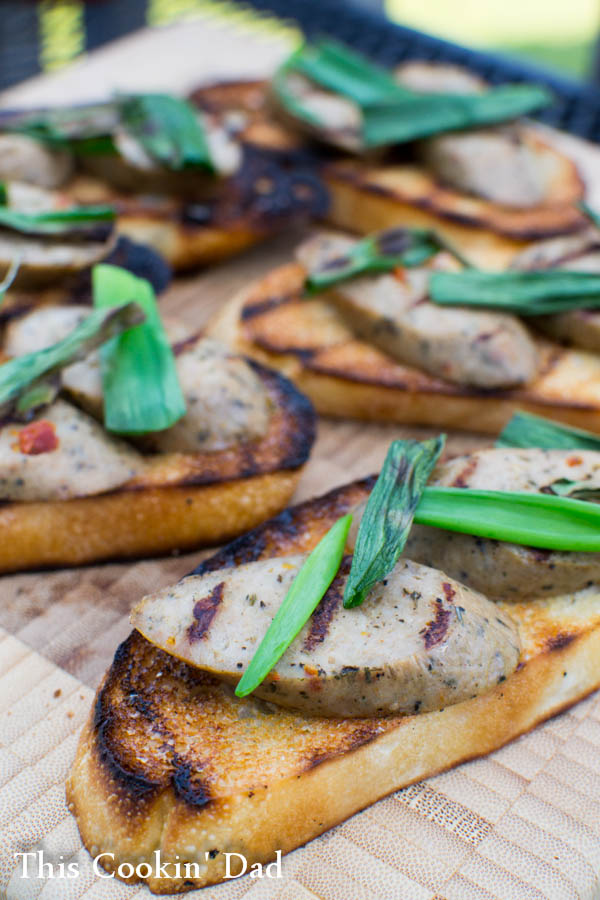 Grilling bread does more than just toast bread. Grilling imparts a smokiness and little charred bits that you just can't get any other way. Be careful about cutting the bread too thin. The bread can become too crispy, almost like a cracker. You can make the cuts a little thicker than your typical sliced bread for crispy grilled bread with a little bit of chew on the inside. If you cut the bread nice and thick, though, you'll get a delightful crunch on the exterior followed by a beautifully soft interior.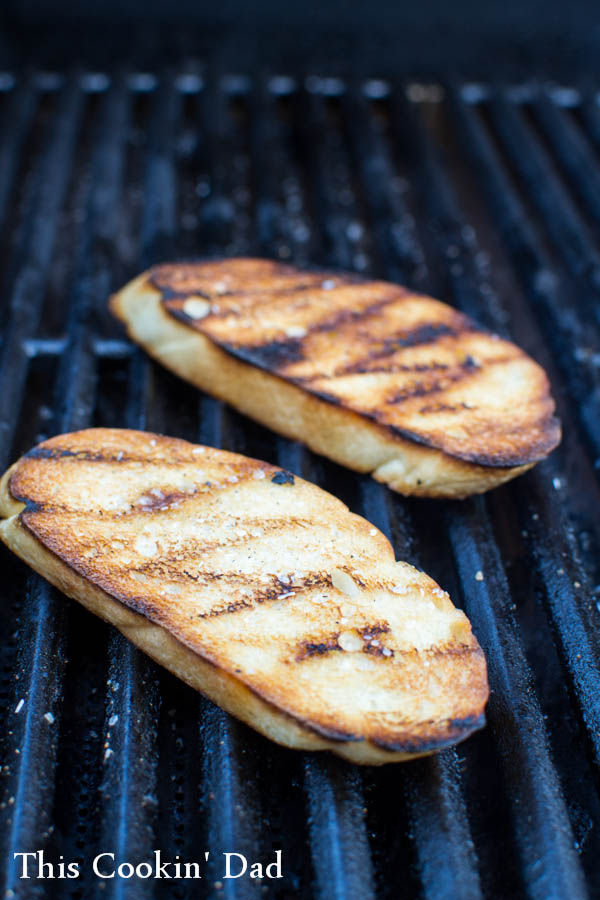 Once you grill the bread, you have a number of options. I love taking the grilled bread and chopping it up for panzanella or using as is to make delicious crostini or bruschetta. Crostini and bruschetta are like two sides of the same coin. Bruschetta uses those large, thick-cut slices of bread. Smeared with garlic and topped with olive oil, salt, and any number of other toppings, it is typically a little more substantial.
Crostini uses those smaller, chewier pieces of bread. Topped with whatever toppings you choose, crostini are perfect for serving as an appetizer or as tapas for a backyard party. I like to start my crostini with a little rub of garlic.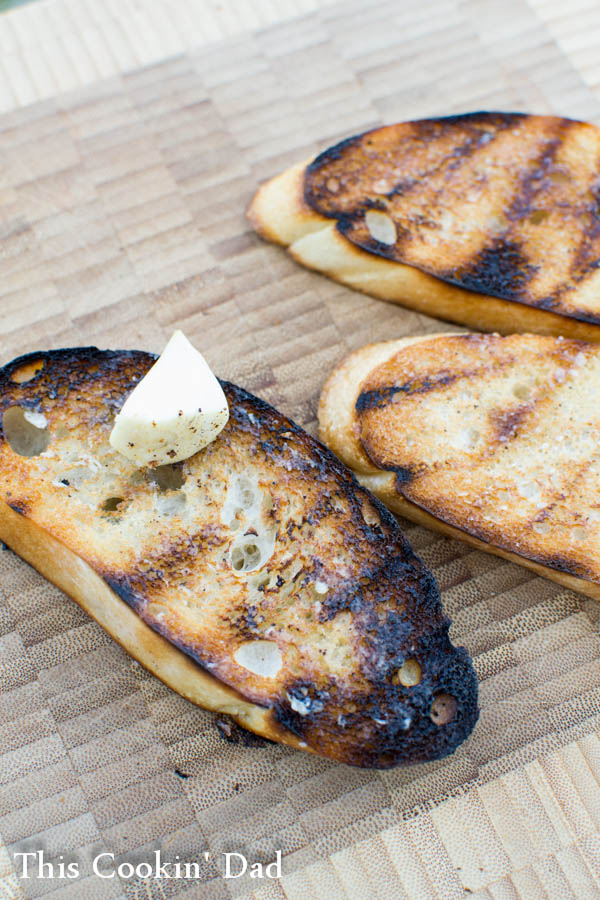 Next, I like to grill up some sausage. One of my favorite party tips is to pre-slice cooked sausages and heat them on the grill. You get great color and smoke on every piece, the sausages are ready super quick, and you don't have to worry about trying to cut them up while they are still hot. Served on a piece of crostini like this, you can really stretch your party budget!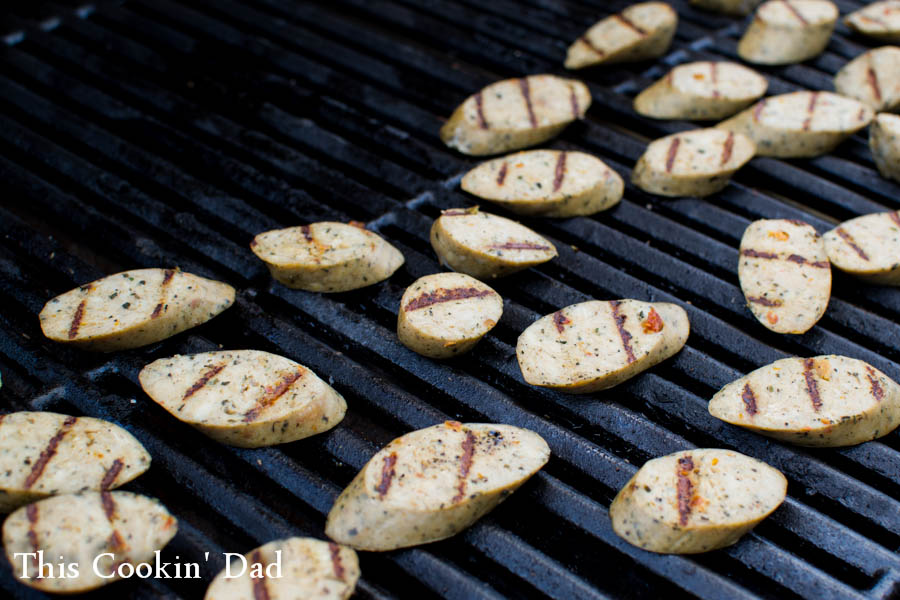 Since you should always have a little something green on your plate, I decided to top these crostini with a little green onion to help compliment the flavors of the sausage. But just chopping up green onion wouldn't be enough. Dressed in a little olive oil, the green onion spend about 2-3 minutes on the grill, adding a little smokiness and bringing out a touch of sweetness.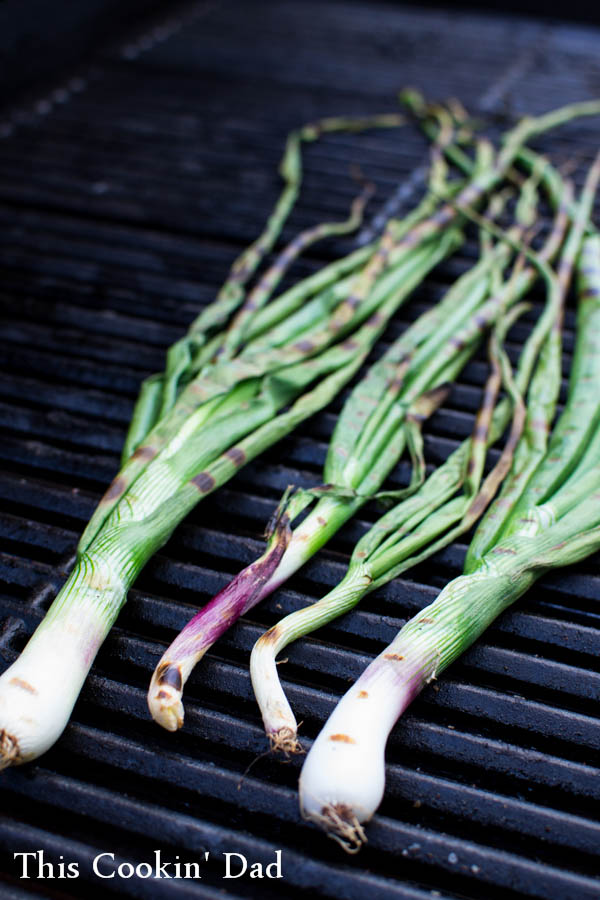 Chop up the onions and place on top of the sausage to for an easy, fun way to shake up the typical sausage and onion sandwich. Enjoy!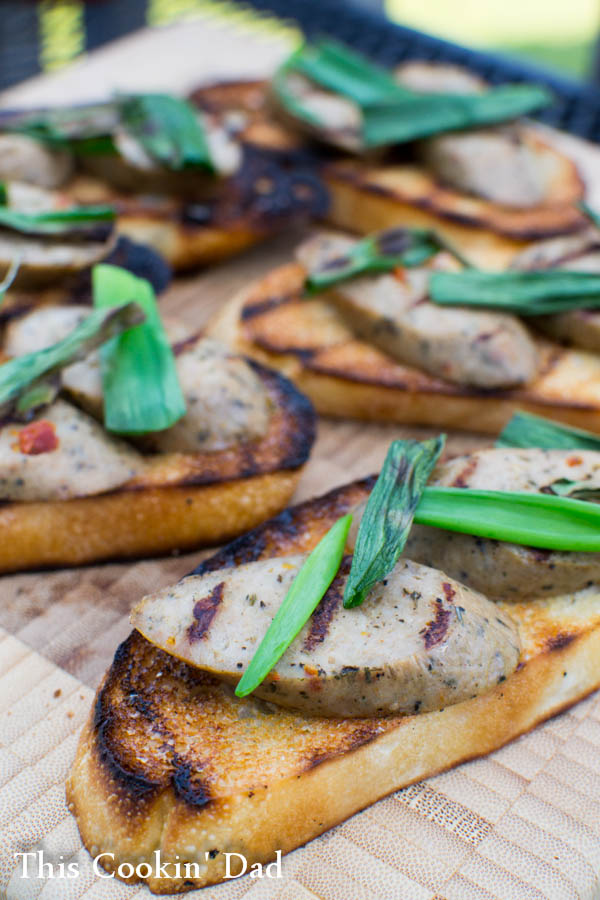 We're grilling up a storm this month! Do you spend all summer on the grill? How do you take advantage of your outdoor kitchen? Leave a comment and share your story!

Sausage and Green Onion Crostini
Ingredients
1 baguette, sliced about ½-3/4" thick
olive oil
salt and pepper
3-4 garlic cloves, peeled
6 cooked sausages, sliced
3-4 green onions
Instructions
Pre-heat a grill to medium-high heat.
Brush sliced bread with olive oil and season with salt and pepper. Grill for 1-2 minutes per side or to desired doneness. Remove from grill and brush immediately with whole garlic cloves.
Place sliced sausage onto the grill. Cook for 2-3 minutes per side or until nicely marked and heated through.
Meanwhile, drizzle green onions with olive oil, season with salt and pepper, and place onto the grill. Cook for 2-3 minutes, remove to a cutting board, and slice into 1" sections.
Top grilled bread with sausage and onions. Serve and enjoy!