When it comes to roasting meats, one of my favorites is pork tenderloin. A quick sear in oil and toss it in the oven. In about 30 minutes, you've got a main dish that is all ready to pair with whatever sides you want! Best of all, pork tenderloin accepts flavor like nobody's business. Here's my method of cooking and recipe for a great mustard-glaze to finish it off.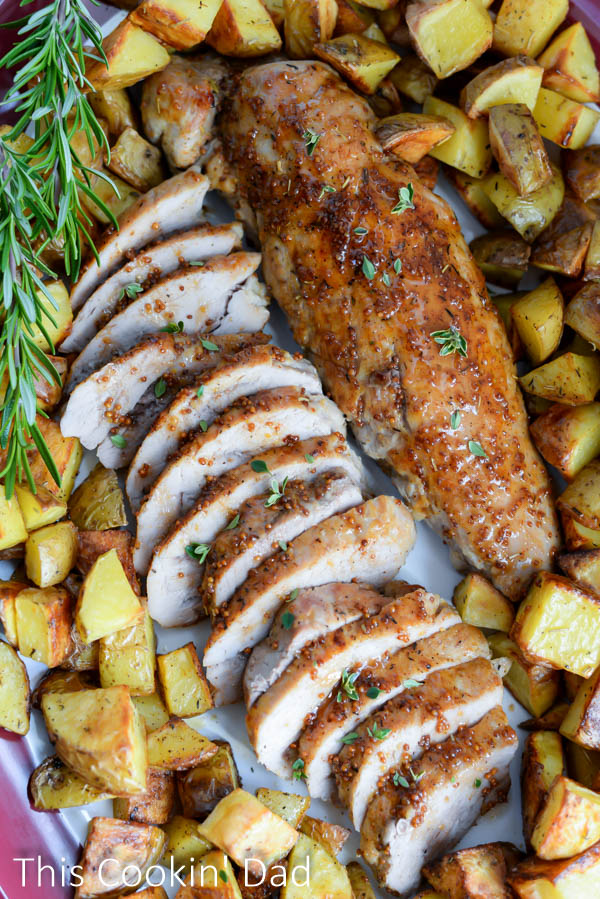 Pork tenderloin is a very forgiving meat. It's very tender so if you cook it until it's completely white in the middle, it'll still be ok. It's also perfectly fine to "undercook" pork tenderloin a little. In fact, the USDA "safe" cooking temperature for whole cuts of pork is 145 degrees plus a resting period. Cooked to this level, your pork tenderloin will still be a little pink in the middle, but it will be safe to eat and so much better because your pork will be incredibly juicy and tender.
Adding flavor to pork tenderloin is easy because the meat is so accepting of flavors. If I've got time (really, who has time anymore?), I love to brine my pork, but, failing that, a glaze is a great way to finish off your pork. Since Beth doesn't like mustard, of course, I have to make a mustard glaze just to prove to her that mustard doesn't have to taste like that bright yellow stuff that you slather on a bologna sandwich.
I start off by trimming the silver skin off of my pork tenderloin. The stuff is not edible and doesn't break down, so get rid of it if you don't want to be chewing on it forever! After that, I season them up with a little spice rub…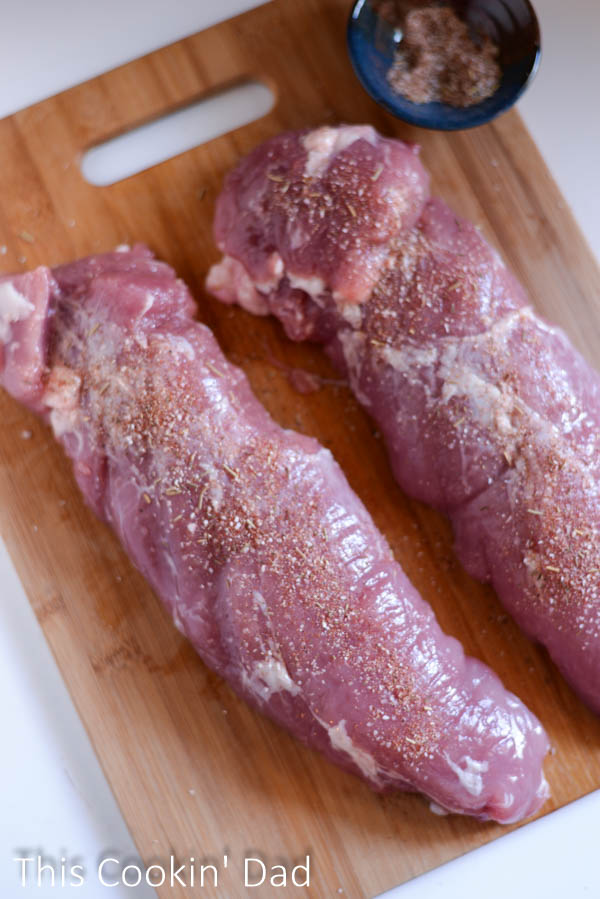 …and get them into a pan to sear on all sides.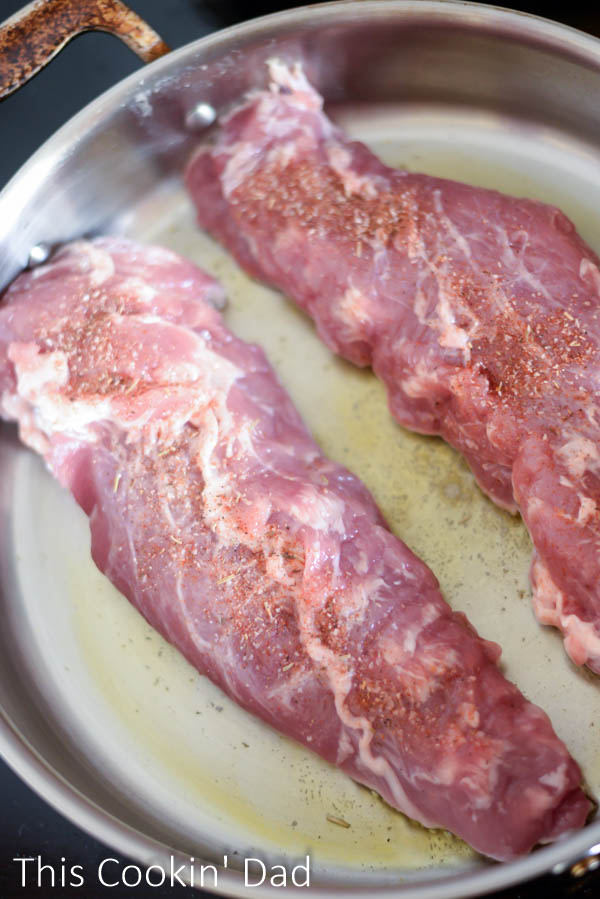 Next, I'll place the pan into a preheated oven so that the meat can cook through. Meanwhile, I'll make up my glaze and, after about 10 minutes, I'll brush a little on. After another 5-10 minutes, I'll pull the pan out, glaze the pork tenderloin again, remove from the pan and let rest for about 5 minutes. The resting process is hugely important to keep the juices in the meat and not all over the plate. If you want moist, juicy meat, just give it a rest!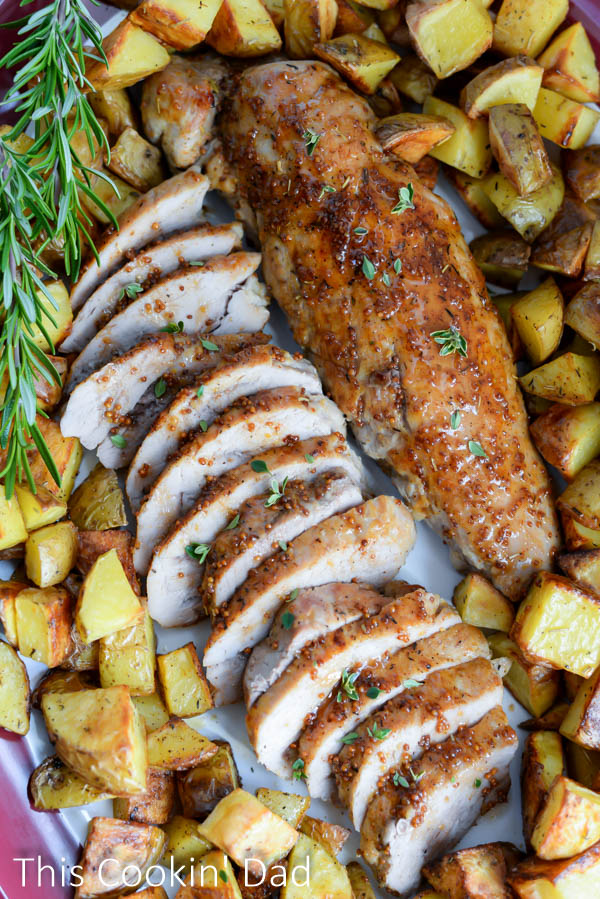 I serve up with Sophie's Roasted Potatoes and a little side salad for a quick and easy weeknight dinner. I hope you give it a try and let me know what you think!

Maple-Mustard Glazed Pork Tenderloin
Ingredients
1 package pork tenderloin (it'll have two tenderloins in it)
2 tbsp salt
2 tsp freshly ground black pepper
2 tsp paprika
1 tsp dried thyme
1 tsp dried rosemary
1 tsp onion powder
½ tsp garlic powder
1 tbsp olive oil
1 tbsp whole grain mustard
1 tbsp brown sugar
1 tbsp maple syrup
1 tsp red wine vinegar
Instructions
Preheat oven to 400 and heat a large skillet over medium-high heat. Remove the silver skin from the pork tenderloin.
Combine salt, pepper, paprika, thyme, rosemary, onion powder, and garlic powder in a small bowl. Season the tenderloins liberally with the mixture.
Add oil to the preheated pan and sear the seasoned tenderloin for 2-3 minutes per side.
Place into the preheated oven and roast for 10 minutes.
Meanwhile, prepare the glaze by combining the mustard, sugar, syrup, and vinegar in a small bowl.
Brush the meat with about half of the glaze and return to the oven to finish cooking, 5-10 minutes or until a thermometer inserted into the thickest part of the meat reads 145 degrees or reaches desired doneness.
Remove the pan from the oven, glaze the meat with the reserved glaze, and set the meat aside to rest for 3-5 minutes.
Slice and serve with desired sides. Enjoy!