Like for most of our Meatless Monday dinners, I needed something easy tonight.  However, I also needed to be a little creative.  You know how sometimes you find inspiration in the silliest of places?  Well today's inspiration actually started at our local Sam's Club.  I was getting tortillas for a taco night, but their deal on tortillas requires you to buy two packages and I only needed one.  While I was looking to decide which other package to get, I saw the hard, flat tostadas stacked up high.  That was it!  I know that I was going to do a Black Bean Tostada!
At that point, the question for me was what kind of recipe was I going to use for the black beans.  The answer became clear as I was preparing for my weekly shopping trip.  I was thumbing through to weekly for The Fresh Market and found that their jarred salsas were on sale, including a Black Bean and Chipotle Salsa.  I knew that I had found the topping for my Black Bean Tostada.  Some veggie chopping, a little cheese melting, and a little plating time later and you have the results that you see below.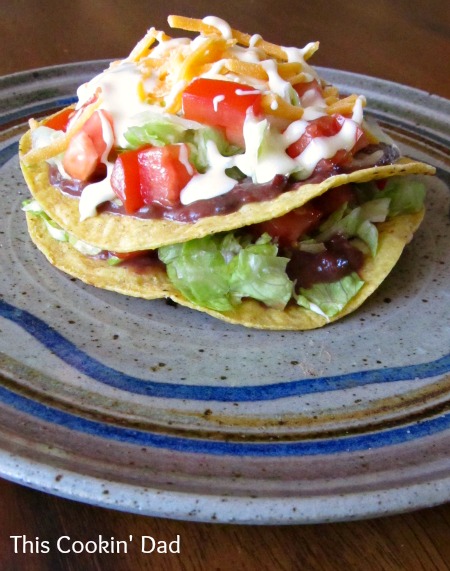 This is one of those dishes that really could not be easier.  I used the Black Bean and Chipotle Salsa from The Fresh Market, but you could buy any kind from your local store or just make your own.  I topped with lettuce, tomato, sour cream, shredded cheese, and some melted queso, but you could add just about anything you want.  Black olives and tomato salsa would be great, as would some chicken on another weekday or for that person who just will not cooperate for Meatless Monday.  That'll save you some time making multiple dishes, but allow you to participate!
Have you ever had a Black Bean Tostada?  How do you Meatless Monday?  Have any tips for getting that overly stubborn meat eater to take a break just one time a week?  Let me know what I can do to help.
Meatless Monday, a national nonprofit public health initiative, is all about incorporating more vegetables and less meat into our diet. It's about moderation, just one day a week, cutting down on meats high in saturated fat and increasing protein-rich plant-based foods — good for personal health and good for the planet.