Alright, so it has been over a month since my last post!  I cannot begin to tell you how sick I have been.  I have hardly had the strength to get out of bed, much less writing to you guys about how little strength I've had.  I spent two weeks struggling with bronchitis before seeing a doctor about it.  With meds, the bronchitis cleared up after another week, but transitioned over to a sinus infection that my immune system was just too weak to beat.  Cue another trip to the doctor, more meds, and another week and I am finally feeling almost like my normal self.  During that whole time, I still had preschool drop-off and pick-up, kids to watch, dinners to make, laundry, dishes, etc.  Kids just don't let you rest, do they?
Thank goodness for Beth or who knows what shape I'd be in.  She wound up behind on a few things and started to get sick herself, but since I have started to mend, I can take some of the slack off of her so that she can rest and get caught back up.  Ok, all of that out of the way….on to the good stuff.
As some of you may know, right before I got sick, I was selected as the Next Top Blogger for Foods from Chile.  Check out my blog entry and winning video for more about that.  Well, after I won, Beth and I decided that we may as well do it up right.  We finally broke down and purchased a brand new DSLR camera!  We stretched our budget for a great entry level camera and got an incredible deal at Sam's Club on a Nikon D3100 with an 18-55 mm lens and a 55-200 mm lens.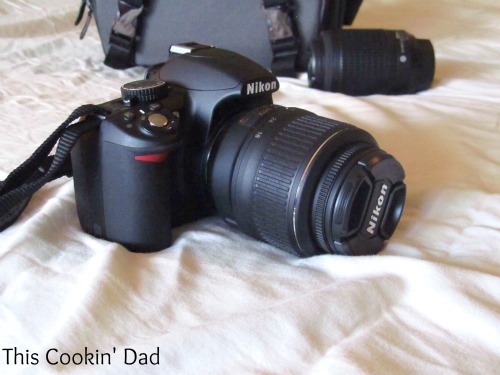 Can you believe that all of the beautiful pictures that we have taken so far for Simply Budgeted have been on a pocket-sized digital camera?  It is true what they say:  the best camera is the one in your hand!  If you don't have the camera, you can't get the shot.  Still, I have long felt limited by our little camera.  No more!  I feel like the little one was great for training my eye for composition and really stretching it's capabilities for manual settings.  The big boy….well, let me just tell you how much easier it is to get a great shot!  I still play with the manual settings and there are way more factors for me to consider with it.  Plus, I've been playing with the manual zoom too!  In all, though, I seem to come out with so much more interesting shots with much less effort.  Let me show you some examples of some pictures that I took when I was just playing around with the camera when the kids were at the playground.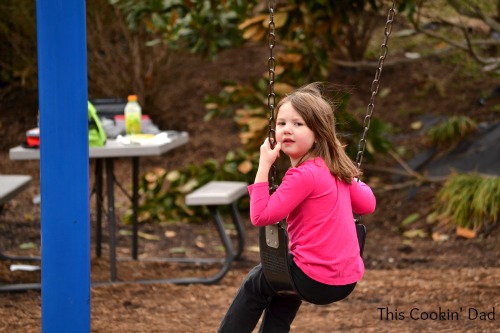 How beautiful is that little girl?  She poses so perfectly every time!  Now, my photographer's eye instantly notices the picnic lunch in the background.  Got it!  If I were trying to get the perfect shot, I should have cleaned that up.  However, for just messing around with the camera, this one turned out great!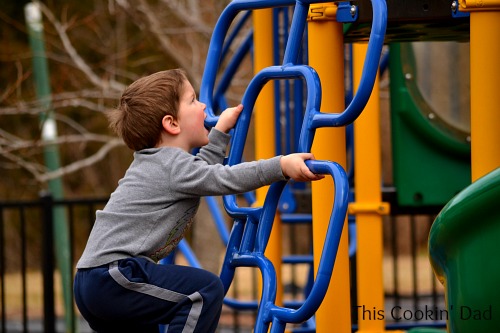 Check out my little man climbing!  This is a great shot of him in action!  I love that I can put the shutter speed up so high that I can freeze him in time even when he is moving so fast.  The different levels of focus that I can get by doing the manual focus just make this a really interesting shot to me!  Now, on to some more staged shots where I had a little more time to compose.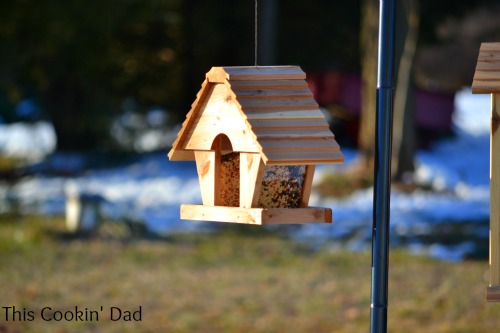 I was messing around with the focus on this one after our big snowfall a couple of weeks ago in central VA.  I love how clear the detail is up front.  You could almost count each and every seed if you wanted to, but the background is a blur that just hints at what's going on.  It's a pretty neat shot.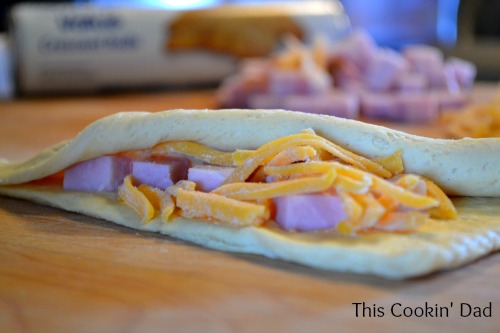 Last but not least is a photo that I took when doing some work for Simply Budgeted.  You can see the roll of crescent rolls, the ham, and the cheese in the background just enough to know what's going on, but you know that all of the action is right there in front.  I could have never gotten this shot (or any of these other ones) with the pocket camera.  Did I say that I'm super excited about my new Nikon D3100?
I'm also excited about this trip to Chile.  I'll post more about that in the coming days.  Now that I'm feeling better, I'm hoping to post about the preparations, the plan for the trip, etc.  I definitely want to invite all of you along with me.  I'll be posting to the blog during the trip and will be getting some great photos up as well.  I hope you'll join me!
For now, tell me what you think about my new camera and how you like these pictures.  I'm still working on my photography skills here, so any advice would be incredibly helpful!