When I'm cooking, I don't use recipes too much. I might consult them to figure out times, heat levels, or ingredients that go well together, but, generally, I free form. When baking, on the other hand, you pretty much need a recipe. I develop a number of them over time, but the best recipes, I've found, are the ones that are inherited. My wife's grandmother passed down her recipe for Banana Bread years ago and, though I've tweaked add-ins or toppings over the years, the base recipe has stayed exactly the same.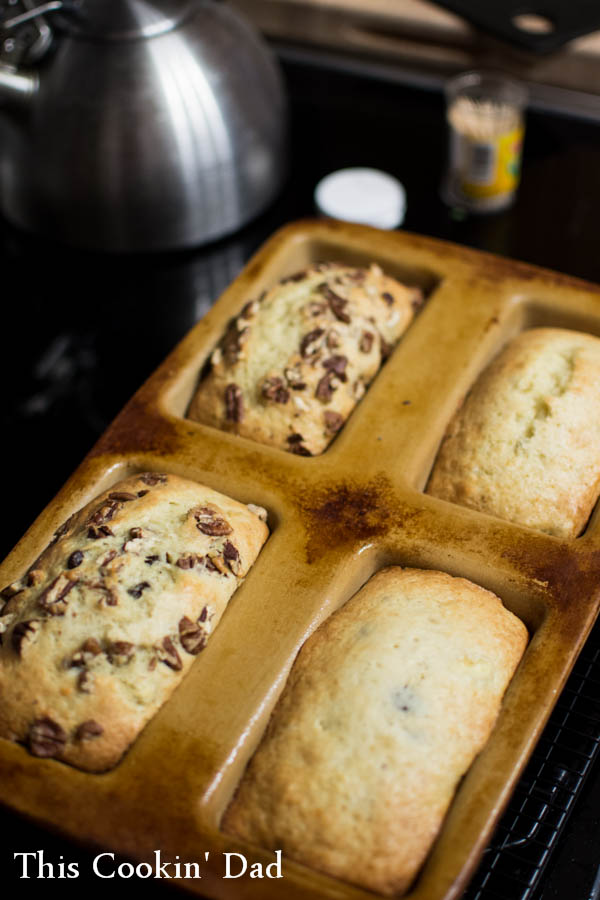 Banana bread is a pretty recent addition to the culinary scene, having come about during the Great Depression as a way to use up bananas that were going bad. Banana bread is a quick bread, meaning that it rises without yeast, using chemical leaveners like baking powder to get it's lift. Like many quick breads, it's impossibly easy to make. You mix up your wet ingredients, add your dry, stir them together, and bake. Easy peasy!
What I love most about this recipe is that it's easy for the kids to get involved. Grace could easily mash up the bananas…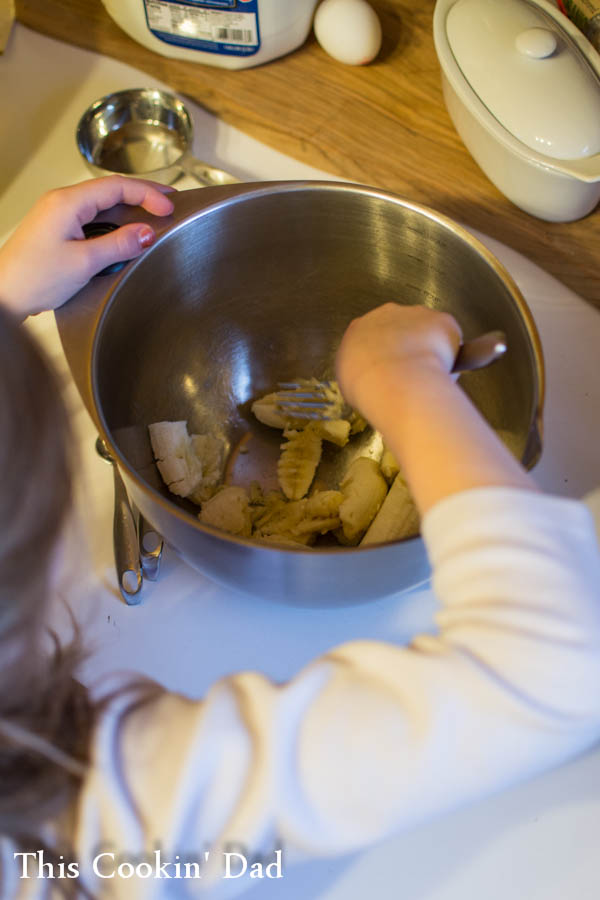 …and crack open the eggs.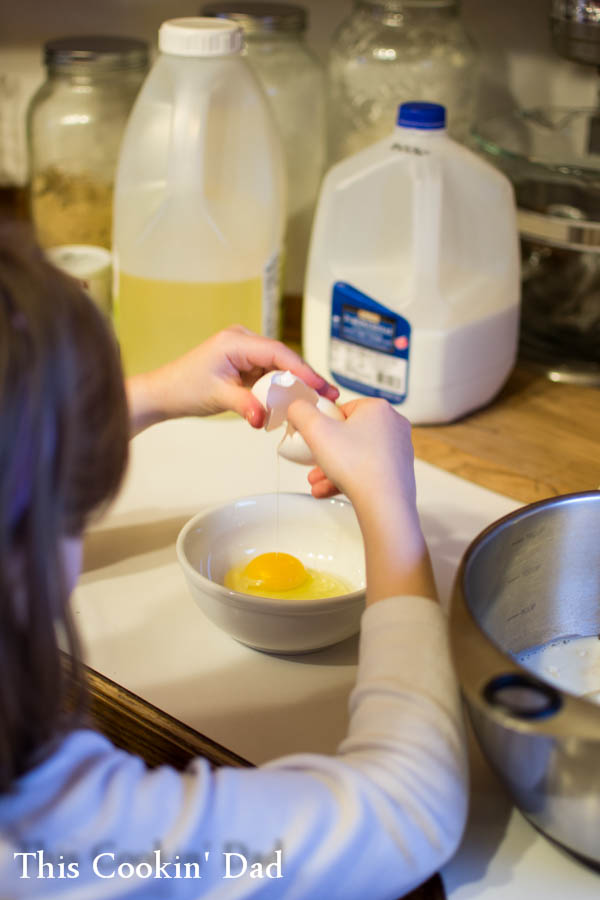 Beth helped her with the rest of the ingredients and helped pour into mini-loaf pans.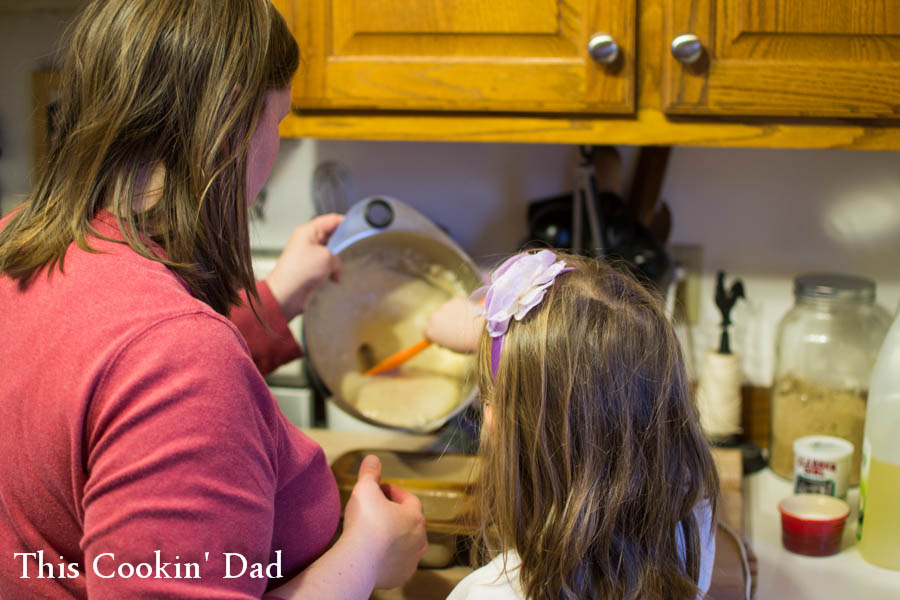 What I love most about this recipe is that it is so customizable. We are adding pecans in one, chocolate chips in another, both in a third, and leaving the fourth plain. You could absolutely add anything you want. We've done coconut and I really want to try one with white chocolate and dried cranberries. YUM!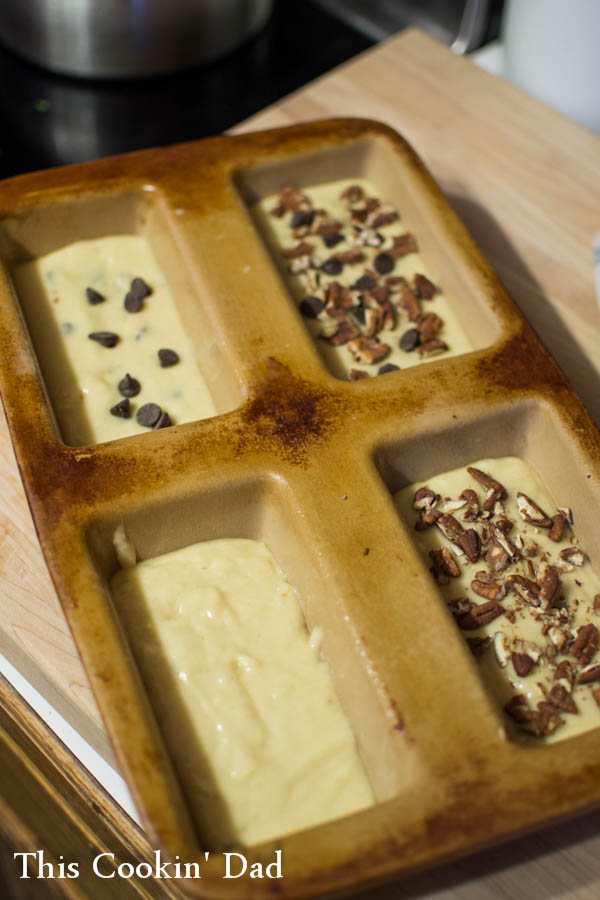 After a turn in the oven, the banana bread puffs up, golden and beautiful. Remove it from the pan right away and let it cool before digging in! Enjoy!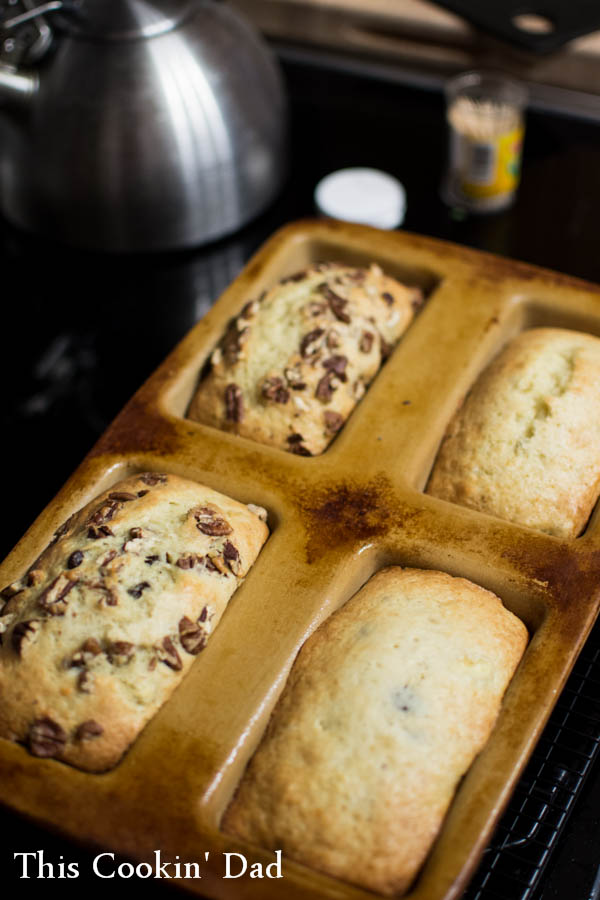 What would you put into your banana bread? Are you all about the bread? Throughout February, I'll be focusing on how to make breads in all different forms. What is your favorite? Leave a comment and share your story.

Banana Bread
Ingredients
1 cup ripe mashed bananas, about 2 bananas
1 cup sugar
3 Tbsp canola oil
¾ cup milk
1 egg
2½ cups flour
1 tsp salt
3½ tsp baking powder
1 cup chopped nuts (optional)
1 cup chocolate chips (optional)
Instructions
Preheat oven to 350 degrees. Grease and flour loaf pan or mini loaf pans.
Combine first 5 ingredients (through egg) in a large mixing bowl or in the work bowl of a stand mixer.
In a separate mixing bowl, combine flour, salt, and baking powder. Add in three stages to the banana mixture, scraping the bowl between each addition. Mix just until all of the flour mixture in incorporated.
Pour batter into a large loaf pan or four mini loaf pans.
Bake at 350 for about 1 hour for large loaf or 45 minutes for mini loaves or until golden brown and toothpick inserted in the center comes out clean.
Remove from pans immediately and cool.
Enjoy!