All month, we are talking about grains. One of the most important grains worldwide is rice. Today, I'm going to talk a little about rice and share my recipe for an incredibly easy rice pilaf.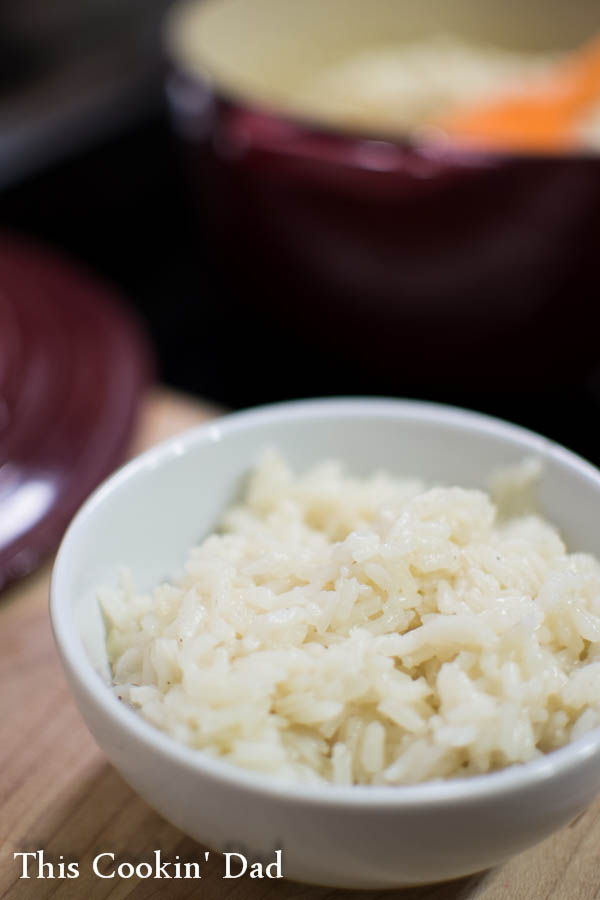 Whether, long-grain or short grain, jasmine or basmati, brown or wild, rice is the staple food for over half of the world's population. This means that over 3.5 billion humans eat rice daily or with every meal! Rice has been domesticated for over 10,000 years, explaining why there are so many varieties and so many different ways to prepare it. In fact, rice is so important worldwide that it is even used in many religious ceremonies. If you've ever thrown rice at a wedding, you know just what I'm talking about.
Like I said before, there is a list a mile long of the different kinds of rice. Over 40,000 varieties! While I eat brown or wild rice varieties from time to time and I use arborio rice when making risotto, my go to is exactly what I grew up with, straight-forward long grain rice. Nothing fancy or expensive. Just the stuff you buy in the 1 or 2 lb bags on the lower shelf at the grocery store. It's cheap, cooks quickly, digests easy, and soaks up flavors from my favorite dishes, like a good chili or gumbo.
One of the oldest rice dishes actually dates back to Persia and the times of Alexander the Great. Rice pilaf can be very complex, with meats, raisins, lemongrass, all kinds of herbs, etc. At it's most basic, though, rice pilaf is just a cooking technique in which rice is fried in a little oil and cooked in broth. It's not all that different from the 20 minute "dump and go" method that I typically use for white rice and it adds so much flavor!
To start, saute up some diced onion and one minced clove of garlic in a little olive oil until you just start to get some color.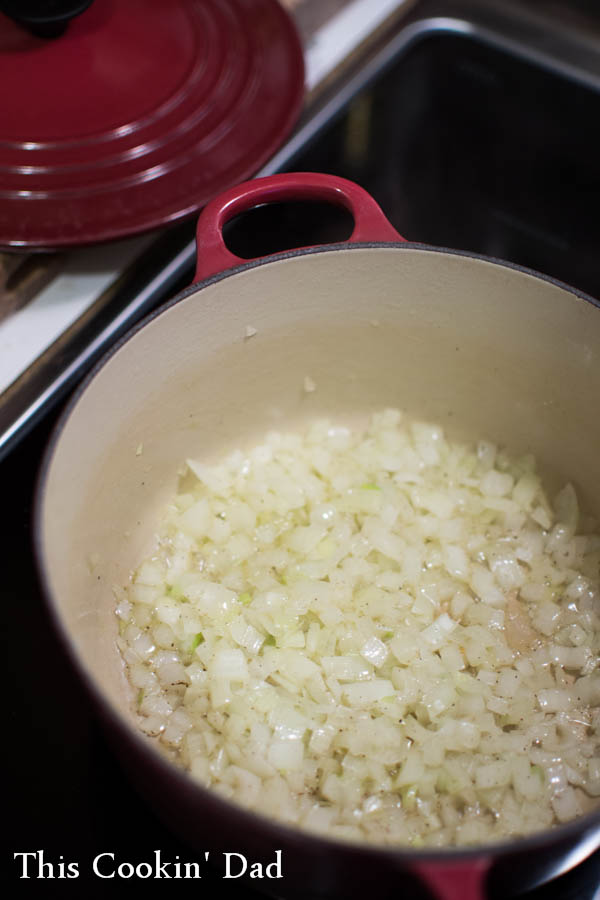 Add your rice and saute for another 3-5 minutes. Note: Never rinse your rice before using. You wash away so many nutrients! Sure, you rinse away starch, but it's rice…it's supposed to have starch!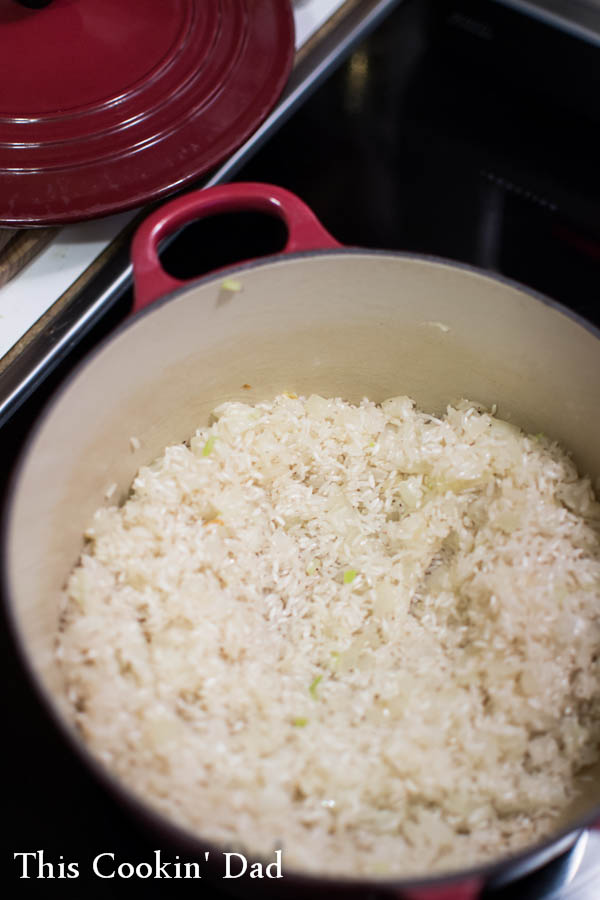 After the rice starts to turn a little clearer, add your broth. Bring it to a boil, turn to low, and cover for 20 minutes.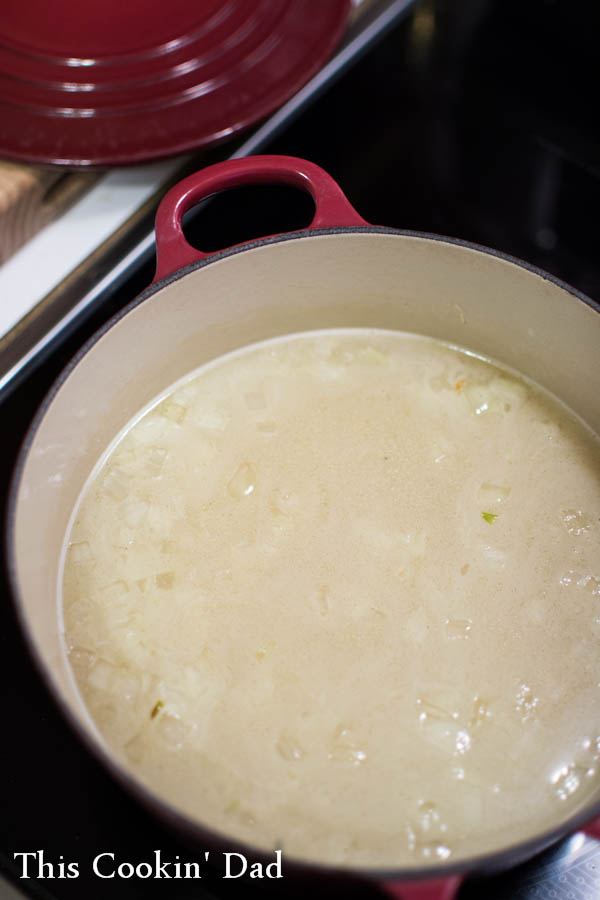 Remove from the heat and keep covered another 10 minutes to fluff the rice. Serve warm.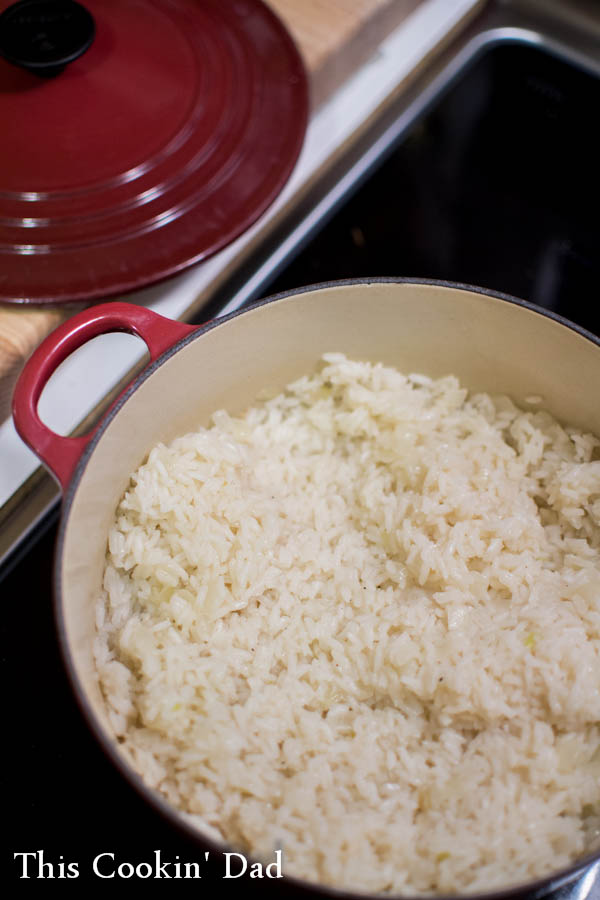 So what kind of rice do you eat? How do you feel about grains, in general? What are your favorites? Do you shy away from them? We'll be discussing grains through March on This Cookin' Dad. Please leave a comment and share your story.

Easy Rice Pilaf
Ingredients
1 tbsp olive oil
1 small onion, diced
1 clove garlic, minced
salt and pepper
2 cups long grain white rice
4 cups chicken broth
Instructions
Heat oil in a 3.5 qt pot over medium-high heat. Add onion, garlic, and a pinch each of salt and pepper. Cook until onion just begins to brown.
Add rice and cook until nearly translucent, 3-5 minutes.
Add broth. Bring to a boil, cover, reduce heat to low, and simmer for 20 minutes.
Remove from heat and let rest, covered for 10 minutes.
Season with additional salt and pepper and serve warm.
Enjoy!