All month long, we are talking about breakfast and no breakfast in the southern United States would be complete without an order of grits. I've heard it said that, Mason-Dixon line aside, if you don't eat grits, you cannot truly call yourself a Southerner.
Well, I'm a Southern boy through and through, but I have never been overly enamored with grits. My parents tried to get me to eat grits from a young age, but, honestly, it just never took. I've tried them with butter, with sugar, and with maple syrup. Looking back, I think that I was just being given crappy grits. I mean, seriously, if maple syrup can't make something taste good, you really just shouldn't be eating it!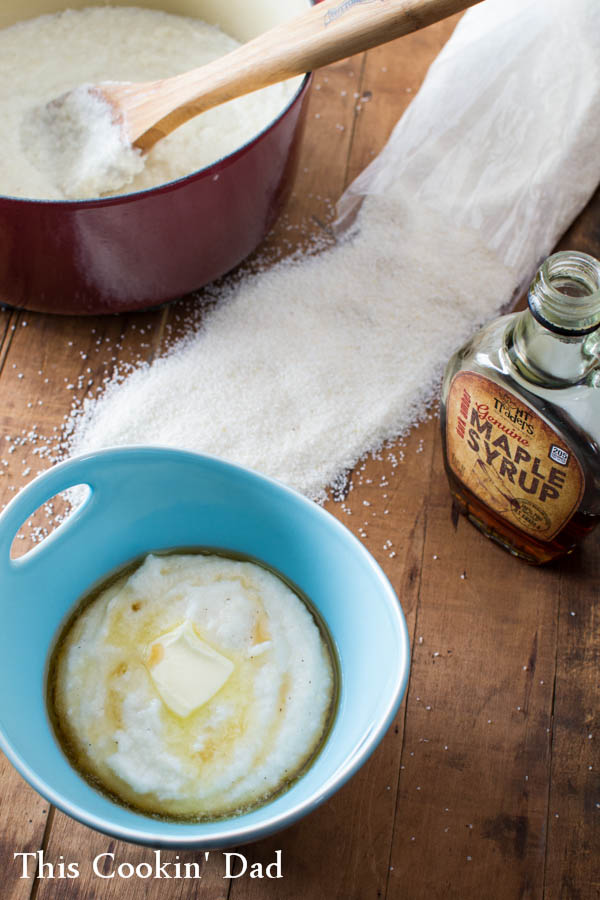 Now that I've grown up a little, I definitely appreciate grits a lot more and I've learned what I like about good grits and what I really don't like about the bad ones. Good grits are rich, creamy, and have a definite corn taste to them. Bad grits are, well, gritty. They are more gelatinous than creamy and really just don't have any flavor.
What is a grit, anyways?
In one of my all time favorite movies about the south, My Cousin Vinny, Joe Pesci asks this exact question. The answer? Corn that's been simmered in water for 15-20 minutes. Not far off, but maybe a little extra explanation is in order for the grit-uninitiated.
What we typically think of as grits are "hominy" grits, hominy being a dried corn that has been steeped in a lime solution to strip away the outer hull of the corn kernels (this gives them that white color). These are then dried and ground to various levels of coarseness to give us coarse, medium, or quick cooking grits. Ground into a fine powder, we are basically talking masa harina for making corn tortillas or tamales.
Keep in mind that there is a big difference between hominy and white corn. Can you make grits with regular cornmeal, yellow or white? Sure, but they won't be hominy grits. If you are doing that, you may as well call it polenta and impress some people!
While you could just soak your grits in water for that 15-20 minutes, you'll just wind up with the stuff that I had in those little bowls on the side of my breakfast plate as a kid. Congealed, slightly crunchy, goop. If that's what you like, you can have it! For me, I like to add a little extra flavor with some milk, butter, and salt to give that corn a little lift.
For medium grind grits, you'll soak for about 10-15 minutes. Coarser, stone ground grits will take longer and the quick cooking grits (just a smaller grind) will take less time. Please don't buy the instant stuff! After soaking, I stir in a little pepper, some more butter, and top with a fried egg or some Maple Bourbon Syrup. Grits like that make me a happy guy! I hope you enjoy!
How were your grits growing up? Any nightmares to share? Throughout April, we're talking about breakfast! What is your favorite breakfast food? Anything new that you'd like to try? Leave a comment and share your stories and suggestions!

Creamy Grits
Ingredients
3 cups water
2 cups 2% milk
¾ tsp salt
4 tbsp butter, divided
1 cup regular, or medium grind grits
¼ tsp black pepper
Instructions
Bring water, milk, salt, and 2 tbsp butter to a boil in a 3- to 4- quart pot..
Slowly add grits, stirring constantly.
Reduce heat to low, cover, and cook at a low simmer, stirring often, for 10-15 minutes or until most of the water has been absorbed and grits have reached desired thickness.
Remove from the heat and add the pepper and remaining butter.
Serve warm with butter, syrup, eggs, bacon, or whatever your southern heart desires. Enjoy!