This month we're talking about salads and shaking things up a little. I love taking classic dishes, taking a look back at their conception and what made them classic and then recreating it with my own little twist. My Pulled Pork Cobb Salad does just that.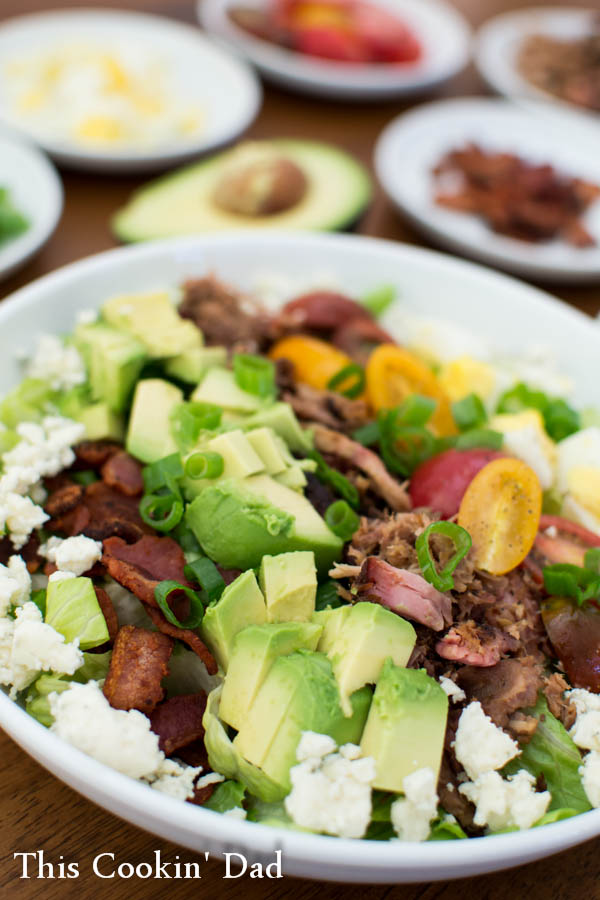 The story goes that, back in the 1930's, one of the owners of the Hollywood Brown Derby restaurant came in starving one night and made himself a salad with leftovers from the kitchen. For some reason, it all just made sense together and the popularity of the salad took off, named after the man who created it, Robert Cobb.
The Cobb is a composed salad that is typically made with a bed of greens tossed in French dressing or a vinaigrette and topped with rows of Egg, Avocado, Tomato, Chicken (roasted or grilled), Onion, Bacon, and Blue Cheese–EAT COBB. While you can absolutely serve this as a tossed salad, the beauty of it is in the rows of ingredients. Since we eat with our eyes first, I prefer to keep the anticipation of those great ingredients front and center.
In keeping with the history of the salad, I thought it made a lot of sense to use some of the leftover ingredients that we keep around to compose my salad.
To be honest, most of the typical ingredients are usually here anyhow. Greens, tomatoes, and green onions are always on hand, crispy bacon is never more than a skillet and a few minutes away, hard-boiled eggs are pretty common around here, and I like to use blue cheese for steaks, burgers, etc. For my slightly more Southern take on the salad, I opted for some pulled pork that I had smoked just a day or two earlier. It's pretty rare to smoke pork and not wind up with leftovers. I don't sauce all of it, preferring to sauce as needed so that I can use leftover pork for something like this salad.
The only specialty item that I needed to buy for this salad was an avocado. The creaminess and grassy flavor of the avocado makes the Cobb salad what it is and is entirely necessary. I also opt for ranch dressing to dress my greens instead of French dressing or a vinaigrette. It's mostly my preference, but with the smoke from the pork and tang from the blue cheese, the ranch dressing really works here!
At the end of the day, this recipe does not vary too much from the classic, but the smoke of the pulled pork really adds a different dimension to the dish. Whether you smoke the pork yourself or get it from your local BBQ joint, I hope you give it a try. Enjoy!
How would you shake up a Cobb salad? What ingredients do you keep on hand? We're talking about salads all month. Do you have a favorite? Leave a comment and share your story!

Pulled Pork Cobb Salad
Ingredients
4 slices thick cut bacon
2 cups leftover pulled pork
6 cups chopped romaine lettuce
2 hard boiled eggs, chopped
2 cups chopped tomatoes
1 avocado, cubed
1 cup crumbled blue cheese
6 green onions, sliced
salt and pepper to taste
2 cups ranch dressing
Instructions
In a large skillet over medium heat, cook the bacon until crispy, about 3-5 minutes per side. Set the bacon aside to drain and cool on a plate covered with paper towels. Once cooled, chop the bacon and reserve for later use.
Meanwhile, in the remaining bacon grease, heat the leftover pork over medium heat, stirring frequently, for 2-3 minutes or until warmed through.
Divide the lettuce onto 4 plates. Top the lettuce evenly with the bacon, pork, eggs, tomatoes, avocado, blue cheese, and green onions. Season with salt and pepper, add ranch dressing, and enjoy!