Every year, it seems like blogs, magazines, and TV shows that focus on food try to outdo one another on the newest, best way to make a turkey. Do you fry it, butter baste it, shove stuff between the skin and the meat. This year, I've even seen a method for roasting the turkey covered with butter-soaked cheesecloth. Who thinks of this stuff?!! For most of us, though, the best way to cook a turkey is to roast it simply with classic flavors.
I've cooked turkey in many different ways and, for years, I have tried to outdo my previous year's performance. Sometimes, though, I think we strive so much to stand out that we forget what food is supposed to be. At times like this, it's smart to get back to basics.
My back to basics turkey start by stuffing the cavity with orange, lemon, and rosemary. This perfumes the meat with incredible flavor. By coating the skin lightly with olive oil and seasoning simply with salt and pepper, you get a crunchy, tasty skin that might actually remind you that turkey doesn't have to taste like butter!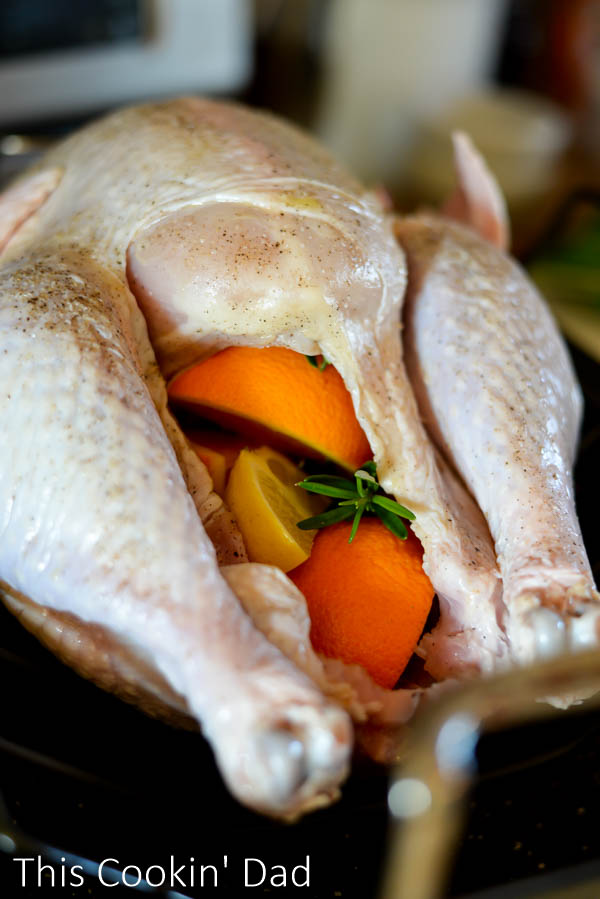 Roasting a turkey takes time. I subscribe to the easy method, roasting at 325 for 15-20 minutes per pound or until a thermometer inserted into the breast meat reads 160 degrees. At that point, pull it out of the oven and let it rest for 20 minutes. You'll get perfectly moist meat every time!
When it comes to carving the turkey, there are a couple of methods. First, you've got the one that most of us grew up with. You know, the one where your dad carved those long skinny slices that wound up shredded all over the table. The other popular method, and the one that I prefer, is where you remove the entire breast from the carcass and slice it a little thicker. To me, this keeps the meat a little moister and guarantees that everyone gets a little taste of that yummy skin!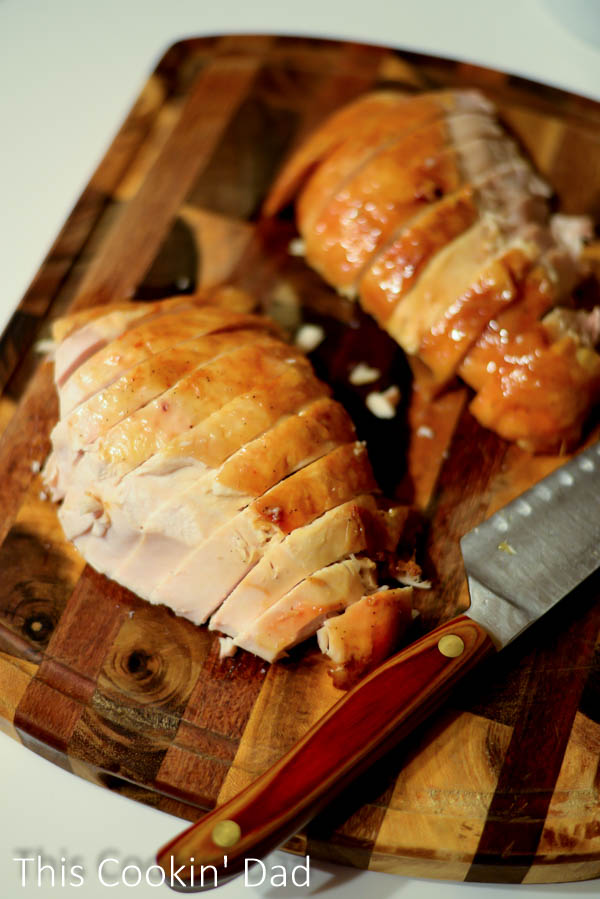 What is your preferred method of roasting a turkey? Do you only roast turkey during the holidays or do you enjoy it at other times of the year as well? Leave a comment and share your story!

Citrus Rosemary Turkey
Ingredients
1 12-14 lb turkey, thawed with giblets removed
1 orange, quartered
1 lemon quartered
3 sprigs rosemary
1 tbsp olive oil
salt and pepper to taste
Instructions
Preheat oven to 325.
Stuff orange and lemon quarters and rosemary into turkey cavity. Rub olive oil over turkey skin and season liberally with salt and pepper.
Roast in oven for 3 to 3½ hours or until thermometer inserted into the breast meat reads 160 degrees. Remove from oven and allow to rest for 20 minutes.
Carve and enjoy with your favorite sides.