We eat a lot of chicken in our house because my wife, Beth, is allergic to many kinds of shellfish, isn't a big fan of fish fish, and can't really eat beef. That pretty much leaves us with pork and chicken. Unfortunately, though, chicken has gotten kind of a bad name. In a culture that prefers the convenience of the boneless, skinless chicken breast over the whole chicken, we have become accustomed to chicken as a bland protein. So bland, in fact, that if we aren't sure what something tastes like, we can confidently say that it "tastes like chicken."
For my part, I would much rather take a few extra minutes to roast up a couple of chickens, letting the fat from the chicken skin seep into the meat and enjoying the different flavors of both white and dark meat.
Since chicken has a reputation for being bland, people have a tendency to want to add all kinds of extra flavors to it, but I think that food is best done simply. There are few things better, in my opinion, than a chicken roasted with nothing more that a little olive oil, some salt and pepper, and thinly sliced lemon. Chop up some potatoes and toss them in the bottom of your pan to roast with the chicken and soak up all of those yummy drippings!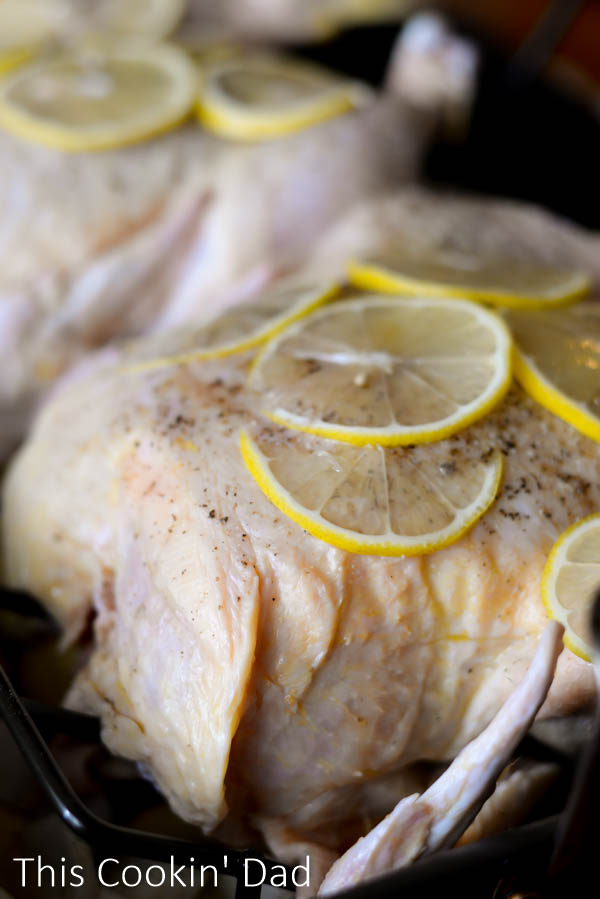 What happens in the oven is just magic. The lemon slices release their flavors into the skin and then actually start to burn, adding another layer of smoky citrus flavor to the dish. Don't worry about having to eat those burnt lemons, though. They've done their work! Just peel them off, toss them out, let the chicken rest for about 20 minutes, and carve it up.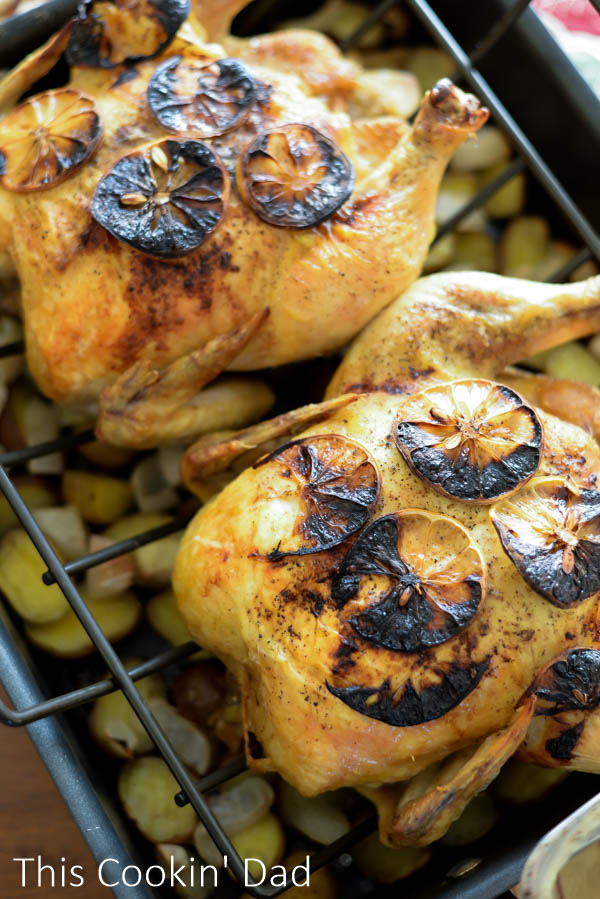 Since I have a large pan for roasting turkeys during the holidays, I have no problem loading that roasting pan up with two chickens. I can carve up one chicken for dinner that night and carve up the other for later in the week. Or, since I have friends that I know are struggling a bit this holiday season, I can pay it forward and package up that chicken with some of those tasty potatoes and offer my friends a home-cooked meal to warm their bodies and their souls.
What are you roasting up this holiday season? Have you rediscovered the joys of roasted chicken? Leave a comment and share your story!

Roast Chicken with Burnt Lemon
Ingredients
2 4-5 lb roasting chickens, giblets removed
1 tbsp olive oil
salt and pepper to taste
1 lemon, thinly sliced
Instructions
Preheat oven to 425 degrees.
Place chickens onto a rack in a roasting pan. Rub in olive oil and season with salt and pepper. Add lemon slices over the skin.
Roast for 1 hour 15 minutes to 1 hour 30 minutes or until a thermometer inserted into the chicken breast reads 165 degrees.
Remove from the oven, cover with foil, and let rest for 20 minutes. Remove lemon slices, carve, and serve. Enjoy!