This month, while we're talking about grilling, I want to really stretch the way that we think about grilled foods. It seems almost too easy, but simply grilling up some asparagus and serving with a little charred lemon can completely change the way you look at your grill and at vegetables, in general.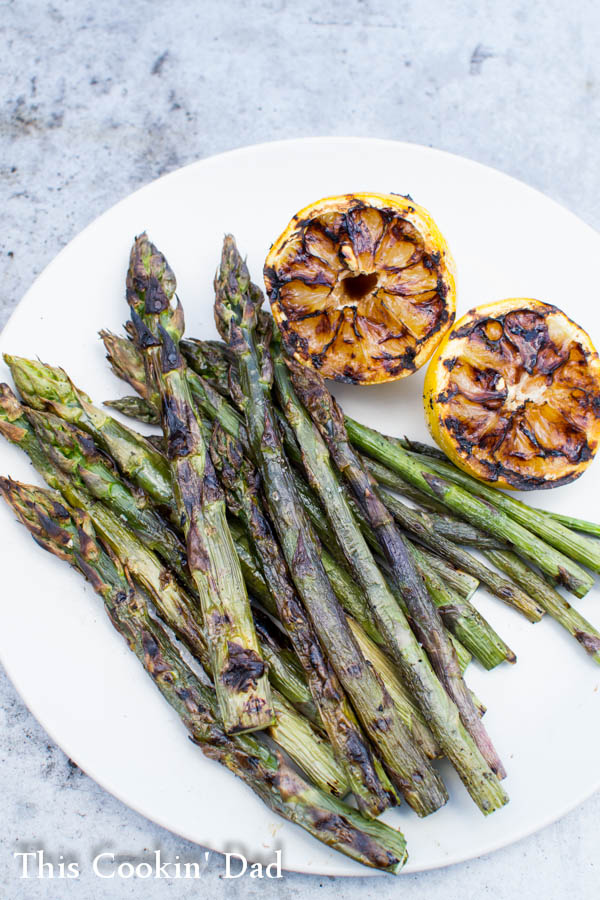 Growing up, the grill was pretty much reserved for meat. Steak, chicken, hamburgers, and hot dogs. That was pretty much all that touched our grill grates. All sides were made in the house. Part of this became a division of labor. Dad manned the grill while mom took care of the side dishes. It all came together to make one nice family meal.
Fast forward 20 years and I'm now the one who mans the grill for our family. For my grill, though, veggies actually play a pretty big role. One of my favorite veggies to grill are asparagus. This is not a vegetable that I grew up with and it is one that I have tried to like in many different ways. This really is one of the few methods of cooking that really allow me to enjoy eating asparagus. The touch of char. The hint of smokiness. These flavors are perfect with the grassy, slightly bitter flavors of asparagus.
Tip: Make sure you purchase asparagus in season and, when grilling, lean towards the skinnier, more tender shoots.
One of the more traditional ways of serving asparagus is by topping it with a hollandaise sauce, a creamy made with butter and egg yolks and, typically, seasoned with lemon juice. When cooking on the grill, though, hollandaise is one of the last things that I want to make. Instead, I keep that lemony accompaniment by charring some lemons on the grill.
Charring a lemon takes it from bitterly sour to beautifully floral and slightly sweet. A quick squeeze over top of the grilled asparagus adds a bright acidity that will make just about anyone happy. I tried for years to find a way that my wife would eat asparagus and this is absolutely the only way she'll eat it!
Do you cook veggies on the grill? What are you favorite recipes? Leave a comment and share your story!

Grilled Asparagus with Charred Lemon
Ingredients
1 bunch of asparagus, trimmed
1 tbsp olive oil
½ tsp salt
½ tsp freshly ground black pepper
1 lemon, halved
Instructions
Heat a grill to medium heat.
In a large mixing bowl, carefully toss trimmed asparagus with oil, salt, and pepper.
Place seasoned asparagus on the preheated grill. Cook 3-5 minutes per side or to desired doneness. Remove to a serving plate.
Meanwhile, place lemon halves, cut side down onto the grill. Grill for 5 minutes and remove to a serving plate with the asparagus.
Squeeze lemon over the asparagus, serve, and enjoy!