In today's focus on grains, I'm going to take a look at corn and share my method for making crispy cornbread. I am from the southern United States and, for us, cornbread could very well be it's own food group. I grew up eating cornbread with beans, greens, and everything in between. I've had it in squares and in muffin form, often baked in a 9×13 cake pan. By far, though, my favorite way to eat cornbread is in wedge form, slathered with butter, after baking in a hot cast iron skillet coated in bacon grease.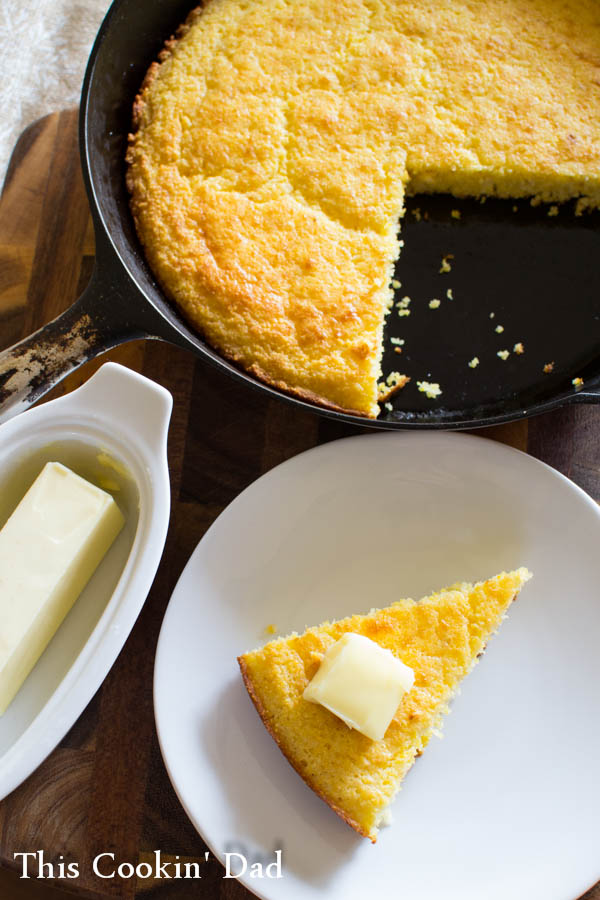 Corn itself is a major staple crop in the Americas. Originally domesticated in Mexico, corn began spreading amongst the native peoples as early as 2500 BC, and quickly spread through Europe and the rest of the world when European explorers discovered it the 1500's.
Corn's uses are very wide ranging. Food uses include the sweet corn that we eat as corn on the cob, popcorn, ground cornmeal that we use for grits and cornbread, masa that is used to make tortillas or tamales, and, of course, bourbon whiskey. Non human-food uses include corn use as animal feed and as biofuel. Did you know that about 40% of the corn grown in the US is for use as ethanol?
So corn can be used for just about anything, right? Why focus on cornbread? Mostly because I really enjoy eating cornbread! I think the most important part of the cornbread, though, is the crispy crust. In my opinion, the best way to ensure that is to use a cast-iron skillet.
It's easier than you'd think! You put a cast-iron skillet over medium-high heat while you mix up your batter (see recipe below). Add some reserved bacon grease into the skillet (if you don't save bacon grease, you should start, but just fry up 3 or 4 pieces of bacon for now). Then pour your batter into the pan and toss the pan into the oven.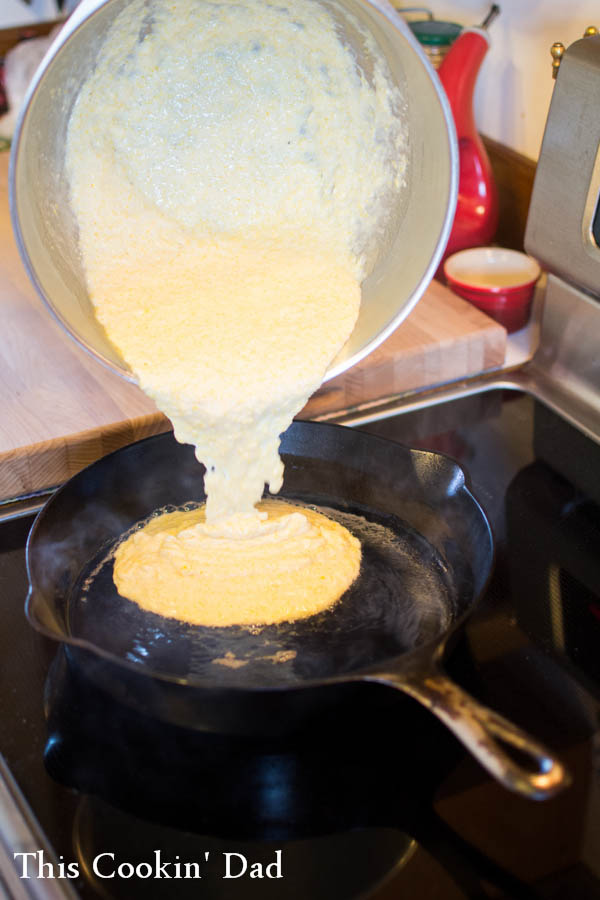 After about 30 minutes, you have cornbread. Easy, right? Cut it into wedges, top with a pat of butter, and eat. Oh, you can serve it with other stuff, too. Might I suggest a nice big bowl of chili? YUM!
What are your favorite memories of cornbread? How do you feel about corn and about grains, in general? What are your favorites? Do you shy away from them? We'll be discussing grains through March on This Cookin' Dad. Please leave a comment and share your story.

Cast Iron Cornbread
Ingredients
1 cup medium grind cornmeal
¾ cup all-purpose flour
1 tbsp white sugar
1½ tsp baking powder
pinch of salt
6 tbsp unsalted butter, melted
2 large eggs, lightly beaten
1½ cups buttermilk
2-3 tbsp bacon grease (or 4 slices bacon)
Instructions
Set oven to 425. Heat a 9-inch cast-iron skillet over medium-high heat.
In a large mixing bowl, combine first 5 ingredients. In a separate bowl, combine butter, eggs, and buttermilk. Pour wet ingredients over the dry ingredients and mix until all ingredients are moistened (batter will still be lumpy).
Drop bacon grease into heated skillet (or cook bacon). Once grease is melted down, pour batter into the skillet. Place immediately into the oven.
Bake for 25 minutes or until a toothpick inserted into the middle comes out clean. Let cool in the skillet for 10 minutes.
Slice into wedges, top with butter, and enjoy!